"Lemongrass Lager" is a 0.5% tea-infused lager from Toast brewery in collab with Teapigs. Get tasting notes and info on calories, carbs and sugar in this review.
If you grew up in the UK – and you're not one of those weird people who doesn't drink hot drinks – you'll know that tea and toast is an epic combination.
But could this combo work in a beer?
This "Lemongrass Lager" from the Toast brewery in collaboration with tea company Teapigs can help us answer this question.
Toast produces all its beers with surplus bread from the sandwich industry, which replaces about a third of the malted barley bill in a typical brew. (Toast says about 44% of the bread produced in the UK isn't eaten.)
The brewery launched in 2016, and now produces a few core pale ales and a lager, all at standard alcohol by volume (ABV).
Lemongrass Lager is part of its "Rise Up" campaign, which aims to raise awareness of the issues affecting the food system. It's infused with Teapigs' herbal antioxidant-rich Lemongrass Tea.
Lemongrass Lager comes in at 0.5% ABV. It's not Toast's first non-alcoholic beer – it previously teamed up with specialist no and low brewer Nirvana on a pale ale.
Ingredients
Toast hasn't provided a full ingredients list for this one (naughty). But we do know the bread it uses could contain spelt and rye. The grain bill includes wheat as well as barley.
There's no info on how much lemongrass is in this beer or what variety of hops the brewers have used.
All ingredients – including the bread – can be traced back to their source and are vegan-friendly.
Calories, carbs and sugar
Lemongrass Lager is low in calories, carbs and sugar.
There are just 11 calories and 2.4g of carbohydrate per 100ml.
Just 0.3g of those carbs are made up of sugar.
Flavours, appearance and mouthfeel
Lemongrass Lager pours a straw colour with a little haze.
It's lively – I had some spillage on opening. That liveliness creates a lot of foam, producing a bouncy-looking head.
The aroma is subtle and complex, led by the hops.
There's lychee and mango along with an earthy character. The malts produce lightly roasted barley and caramel aromas. There was a touch of sulphur in the second can I sampled.
The mouthfeel and body are first class. It's gentle, almost creamy and heavy in the mouth. The carbonation is gentle.
The flavours from the lemongrass and more prominent in the taste than aroma, with lemon and a herby, minty character.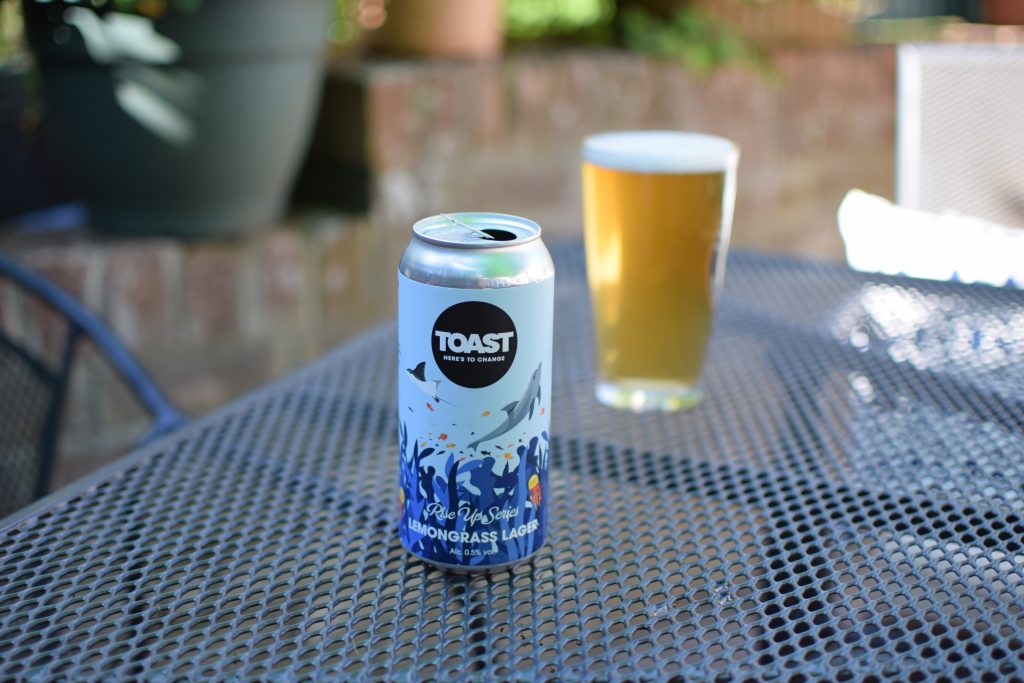 This complements the flavours from the hops, malt and yeast – toffee, caramel, peach and pale malts make an appearance. The fruitiness in the taste is quite sharp, but it's kept in check by those herby characteristics.
The bitterness is light, but it grows with each sip.
Verdict
This is an ale in everything but the way it's brewed. (And a super one at that.) So don't expect an understated lager or pilsner.
The flavours in the aroma and taste are varied and complementary. And the mouthfeel and body are excellent. (Hopefully, the sulphur in my second sample was a one-off.)
A brilliant beer – it's a pity it's only a limited edition.
Key info – Toast and Teapigs Lemongrass Lager
Name: Lemongrass Lager
Brewery: Toast and Teapigs
Style: lager
Alcohol content: 0.5%
Calories: 48 (per 440ml can)
Carbohydrates: 10.5g (per 440ml can)
Sugar: 1.3g (per 440ml can)
Ingredients: water, barley, wheat, lemongrass, hops (partial list) – also may contain rye and spelt
Country: UK
Dispense: can (440ml)
Selected stockists (UK): Wise Bartender*