Brewdog "Raspberry Blitz" is a 0.5% raspberry-infused Berliner weisse style sour beer. Find out how it's made, get tasting notes and see calorie, carb and sugar content in this review.
Before the craft beer revolution, you'd be hard-pressed to find a fruit beer in your local pub or bottle shop – in the UK at least.
Yet, fruit beer has been a common staple of drinkers over the years in some regions.
Breweries in Belgium for instance have a long tradition of producing fruit beers from their sour lambics, by adding fruits like raspberries, cherries and peaches to their beers before a period of secondary fermentation. Many of these are now pretty easy to get hold of abroad.
The Berliner weisse style of beer, conceived in Hamburg but popularised in the Berlin area of Germany, is another acidic beer that often features fruit. Here, the fruit (in the form of a syrup) is usually added on serving to balance the sourness.
The addition of fruit coupled with a (usually) low ABV (alcohol by volume) make the fruit sour beer style an ideal candidate for an alcohol-free or ultra-low ABV beer.
I've already reviewed Nirvana and London Field's "Zen and Berries" collaboration. Unfortunately, that was a limited edition brew.
However, there is an alcohol-free sour fruit beer that's much easier to get hold of – Brewdog's "Raspberry Blitz" (0.5%).
Brewdog launched this beer at the end of the summer of 2018. It started life as a 3% beer as part of the brewery's limited edition "Blitz" series, where it experimented adding different fruits to the same beer.
How is Raspberry Blitz made?
Settling on Raspberry for this alcohol-free version, the beer is in the style of the aforementioned Berliner weisse with the fruit juice added before packaging.
No alcohol is removed from the final brew. Instead, brewers create a low gravity wort with Carapils and Marris Otter malts that minimises fermentation to create a beer under 0.5% ABV.
There's also oats and wheat in the malt bill, plus Magnum hops, which are known for their subtle citrus flavours as well as their clean bitterness.
Many brewers of sour beers manually add a bacteria like Lactobacillus to the wort before fermentation to create an acidic-tasting brew. However, Lactobacillus isn't listed on the ingredients for Raspberry Blitz, so it looks as though Brewdog have encouraged this bacteria to grow by dipping a bag of malt in the wort for a couple of days.
Calories, carbs and sugar
The raspberry juice in this one doesn't mean it's high in calories – there's only 31 calories in a 330ml can.
The carb and sugar content per 330ml is also quite low compared to many other low-alcohol beers – 4.95g of carb of which 1.98g is sugar.
Aroma, mouthfeel and taste
Raspberry Blitz pours ruby-pink with an excellent head, showing that the wheat in the malt bill is doing its job effectively.
The smell of raspberry hits your nostrils full on when you take a sniff, although the tartness it's mixed with could be mistaken for rhubarb.
The back end of each sniff is earthy. I didn't detect any hop aroma or malt, but there's something in there holding back some of the sweetness from the juice. This gives it a nicely balanced aroma.
The mouthfeel is thin but acceptable for this style of beer, with the raspberry juice giving it some stickiness. The bubbles are tight, adding a lot of sharp fizz initially. But this soon calms leaving quite a smoothness to this beer.
The flavour is sharp rather than sour, although it's a little harsh as it slips down your throat.
Again, the raspberries lead the way but there some signs of caramel malts in the taste too with a little bitterness from the hops at the back end of each sip. It feels a bit watery and akin to a lime juice and soda the more you drink. But it's tasty enough and a far better option than an additive-filled soda drink.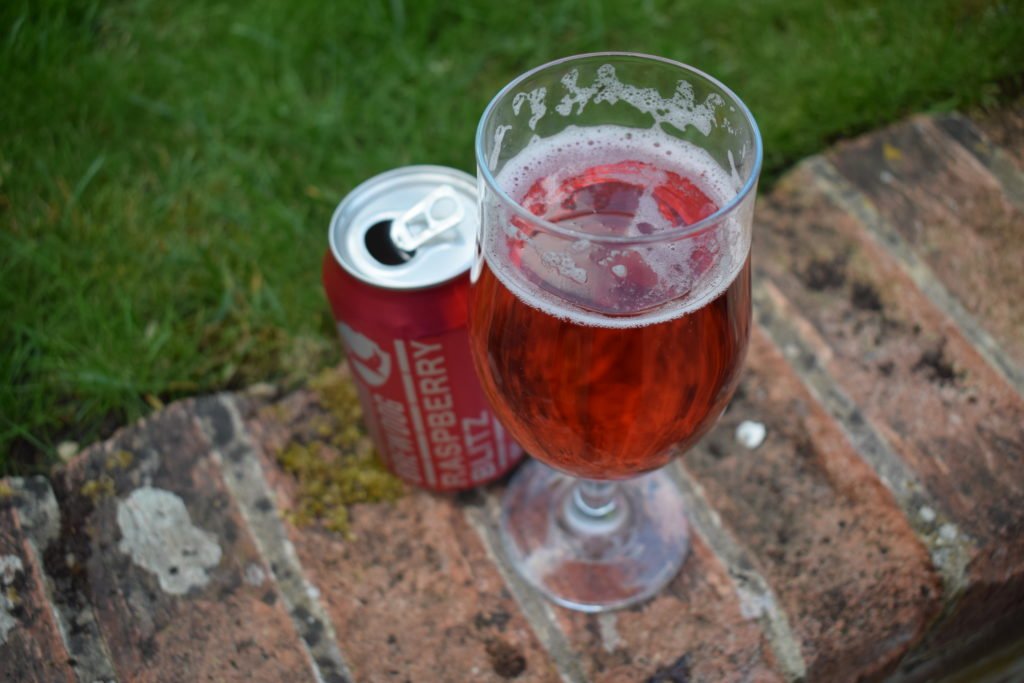 Verdict
With an excellent aroma and decent mouthfeel and flavour, Brewdog's Raspberry Blitz makes a refreshing change from other styles of alcohol-free beer if you're after something a little different.
It's also likely to appeal to you if you don't normally like beer, if you don't mind a bit of acidity in your drink.
I'd just liked to have seen a little more lemon in the aroma and flavours give this beer a bit more depth before it runs out of team. Some bread-like maltiness in common with Berliner weisse beers I've enjoyed in the past would also have been good.
Key info – Brewdog Raspberry Blitz
Name: Raspberry Blitz
Brewery: Brewdog
Style: sour beer
Alcohol content: 0.5%
Calories: 31 (per 330ml can)
Carbohydrates: 5g (per 330ml can)
Sugar: 2g (per 330ml can)
Ingredients: water, raspberry, hops, barley malt, wheat, oats, yeast
Country: UK
Dispense: can (330ml)
Stockists (UK): (Discontinued)