London Fields "Sisters Passion Fruit Sour" is an ultra-low-alcohol sour beer infused with Passion Fruit. Get tasting notes and info on stockists and ingredients in this quick review.
When is a craft brewery not really a craft brewery?
When it's owned by a multinational beer conglomerate of course.
That wasn't always the case for Hackney's London Fields Brewery. As the borough's first commercial brewery in 100+ years when it opened in 2011, it started life with modest capital – just £10,000 – and the aim to make good beer accessible to everyone.
After initial success, the brewery ran into trouble when its founder was charged with tax evasion in 2014. Carlsberg then bought the brewery in 2016, running it as an independent business in a joint venture with New York's Brooklyn Brewery.
London Fields is just one of many smaller breweries Carlsberg owns, the number of which has been boosted by the recent merger of the company with Marston's to create the Carlsberg Marston's Brewing Company. And while the company doesn't own Brooklyn Brewery, it distributes its beers in some parts of the world and produces its beers under licence outside the USA.
Carlsberg has already tapped into the non-alcoholic beer market through its ownership of Portugal's Super Bock Group and links (via Marston's) with Shipyard Brewery. And there's its flagship "0.0" lager too.
London Fields delved into the NA beer space with its collaboration with Nirvana on the "Zen and Berries" limited edition beer.
Its latest non-alcoholic beer – "Sisters Passion Fruit Sour" – is another fruit beer and another collaboration, this time with its sister brewery New Carnegie, a Swedish brewery that also has ownership connections to Carlsberg and Brooklyn Brewery.
Ingredients
The grains in this beer are barley malt and wheat malt. Then there's the added passion fruit juice.
There's no hops in this beer according to the ingredients list.
The brewers have soured this beer with lactobacillus, a lactic acid bacterium.
The ingredients and packaging are vegan friendly.
Calories, carbohydrates and sugar
There's no info on the label about calorie, carb and sugar content.
Flavour, appearance and mouthfeel
Sisters Passion Fruit Sour pours a gorgeous and silky pineapple yellow.
There's zero froth, zero head and almost zero visible carbonation giving it the look of a watered-down smoothie.
Passion fruit dominates the aroma, leaving a little space for some pale maltiness in the background.
The body is thinner than hinted by the appearance, but it suits the passion fruit flavours and aroma. The carbonation produces loads of tiny and gentle bubbles.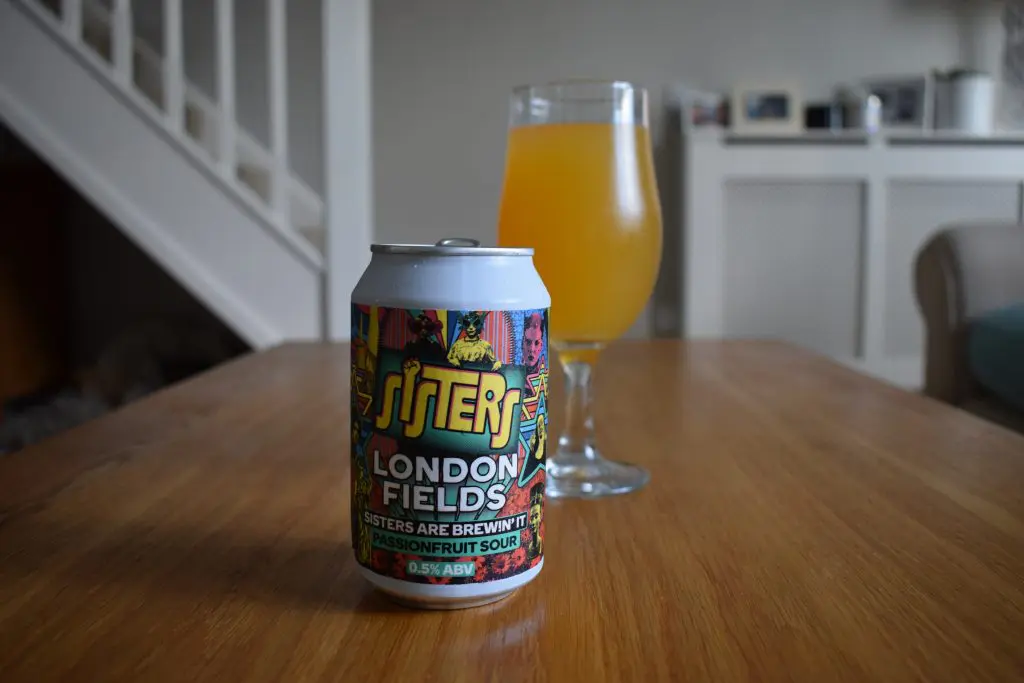 Like with the aroma, it's the passion fruit that dominates the flavour. A touch of pale malt takes the edge of the sweetness, while a little sourness stops you downing it like a fruit juice and gives it a grown-up, cocktail feel.
There's no bitterness, as expected with the lack of hops.
Verdict
Sisters Passion Fruit Sour is a pleasant beer, showcasing those lovely passion fruit flavours and aromas minus the overpowering sweetness that comes with these tropical fruits.
A good beer to go to if you fancy something extra fruity or a change from malty, hoppy beers.
Key info – London Fields Sisters Passion Fruit Sour 0.5%
Name: Sisters Passion Fruit Sour
Brewery: London Fields Brewery
Style: sour beer
Alcohol content: 0.5%
Calories: unknown
Carbohydrates: unknown
Sugar: unknown
Ingredients: water, passion fruit, barley malt, wheat malt, lactobacillus, yeast
Country: UK
Dispense: can (330ml)
Selected stockists (UK): Wise Bartender*