"Little by Little" is an ultra-low-alcohol (0.5%) milk stout from Thornbridge. Get tasting notes and info on ingredients, calories, carbs, sugar and stockists in this review.
Considered by many to be the UK's first "craft" brewery, Thornbridge has provided inspiration for countless brewers and breweries down the years.
And it's not just producers of standard-strength beer who have been inspired. A couple of brewers of non-alcoholic beer have told me Thornbridge inspired them on their journey to brew smaller batch 0.5% beers and bring them to market.
That's despite Thornbridge not producing a non-alcoholic beer itself until 2018.
That beer – a pale ale brewed with orange peel – was first called "Big Easy", then later renamed "Zero Five".
More recently, the Bakewell-based brewery launched this non-alcoholic beer, "Little by Little", a milk stout.
It's available in bottle and on draught in selected venues.
Ingredients
The malts in Little and Little are Munich, Brown, Crystal and Chocolate. There's also roasted barley and wheat in the grain bill.
There's lactose (milk sugar) in the ingredients to give it some body and confirm its status as a milk stout. So it's not suitable for a vegan diet.
The hops are Bramling Cross, which are a British hop known for their spicy, citrus, currant and berry characteristics.
Calories, carbs and sugar
Little by Little is high-ish in calories and carbs, but almost sugar free.
There are 27.5 calories and 5.4g of carbs per 100ml. But the sugar content comes in at less than 0.1g per 100ml.
Flavour, appearance and mouthfeel
Little by Little pours black with a fair bit of fizz generating a caramel head.
This quickly disappears leaving a thin ring of caramel bubbles.
Gorgeous roasted malts dominate the aroma, with coffee, liquorice, toffee and a little cocoa. This is joined by a dab of sweeter, fruitier aromas in the shape of raisin and maybe even a touch of citrus.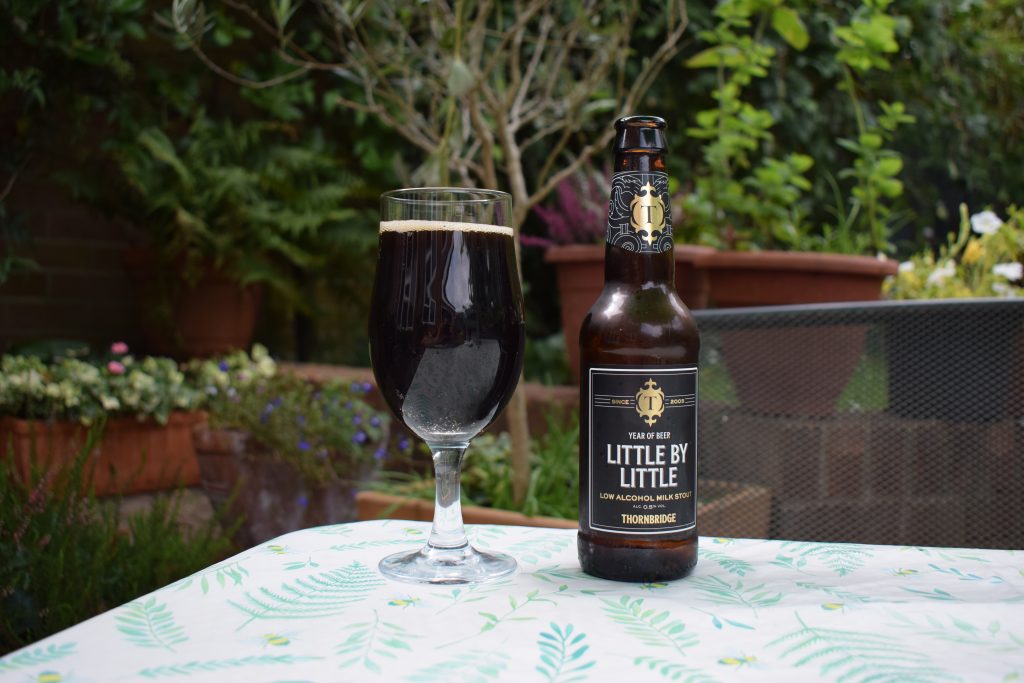 The mouthfeel is thin, even with that lactose and wheat among the ingredients. The bubbles look aggressive but are gentle with just enough fizz to inject some life into each sip.
There's no stickiness and none of the dry finish of many malty NA beers. (I usually like a little of both.)
The flavour is a touch disappointing, if only because it doesn't feature the diversity of the aroma.
Again, it's the dark malts leading the way with more coffee-like roasted barley, a touch of caramel and a touch of milk chocolate.
The hops and esters give it a fruity, citrus finish. There's minimal bitterness.
Verdict
Big Drop have set the milk stout bar high with its "Galactic" non-alcoholic beer. And Little by Little almost rivals it on the aroma front.
But the body and flavour don't quite come up to scratch.
Still, it's a good deal better than many other non-alcoholic stouts. And always a better bet than a sugary soft drink if you're lucky enough to see it on sale down the pub.
Key info – Thornbridge Little by Little
Name: Little by Little
Brewery: Thornbridge
Style: milk stout
Alcohol content: 0.5%
Calories: 91 (per 330ml bottle)
Carbohydrates: 17.8g (per 330ml bottle)
Sugar: 0.3g (per 330ml bottle)
Ingredients: water, barley, wheat, hops, yeast, lactose
Country: UK
Dispense: bottle (330ml)
Selected stockists (UK): Wise Bartender*, Thornbridge