St Peter's "Without" is an (almost) completely alcohol-free dark bitter. Get tasting notes, find out where to buy, and see nutritional info and ingredients in this review.
Lagers, stouts and hoppy pale ales are well represented in the world of non-alcoholic beer. However, if you prefer traditional bitters, you might struggle to find a non-alcoholic version on the shelves.
One of the closest non-alcoholic beers to a traditional bitter is "Without", a beer produced by Suffolk's St Peter's Brewery.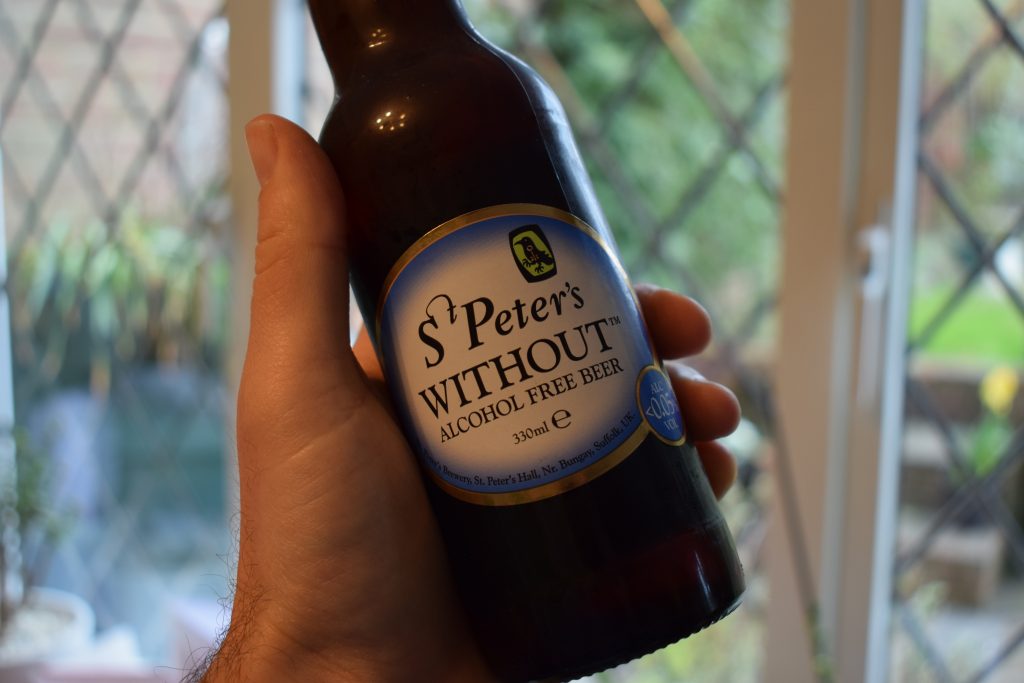 St Peter's brews two other non-alcoholic "Without" beers alongside this one – an organic version and a "Without Gold" version. The brewery also has a range of traditional-strength beers and a London pub, "The Jerusalem Tavern".
Without launched in 2016, a little way before the recent boom in non-alcoholic beer brewing. The brewery's owner John Murphy decided to create a non-alcoholic beer after a cancer diagnosis put paid to his drinking.
This was John's second foray into the non-alcoholic beer industry – he was also involved in marketing Guinness's alcohol-free beer "Kaliber" in the 1970s.
Kaliber doesn't have a great reputation with beer drinkers. How does Without fare?
The beer is a mahogany colour and has a modest head that clings to the glass as you drink it.
The aroma is a little overpowering. It's bready and yeasty, much like stale wholemeal bread. There's also a slight chemical twang, which grows stronger the more you drink. In all, it smells like the air around a large brewery on a brewing day. There's no signs of any hops in the aroma.
The beer has a good body in the mouth. There's low carbonation, which makes it feel like a cask bitter. However, it feels quite greasy after a few sips.
The stale bread continues in the taste. Again, none of the hops comes through in the flavour. It tastes unfinished – more like a mug of malt drink than a beer.
There's a very dry, overly bitter finish. I found it sickly after a few sips and struggled to finish the entire 300ml bottle.
Verdict
I had high hopes for "Without". Unfortunately though, it didn't hit the spot.
There are too many strong flavours and too much bitterness. I found it almost undrinkable.
Key info – St Peter's Without
Name: Without Original
Brewery: St Peter's Brewery
Style: dark ale
Alcohol content: 0.05%
Calories: 90 (per 330ml)
Ingredients: water, malt, yeast, hops
Country: UK
Dispense: bottle (330ml)