"Low Down" is an ultra-low-alcohol (0.5%) India pale lager from Aldi brand The Hop Foundry. Get tasting notes and info on ingredients, calories, carbs, sugar and stockists in this review.
Milk stout, IPA, fruit sour, brown ale, blond ale, porter… after years of lager dominating the non-alcoholic beer market, innovations in production mean that most styles of beer are now available as a low or no option.
One style that's becoming more and more common in non-alcoholic beer is the IPL or India pale lager. Emerging around 10 years ago, this style tends to marry the clean-tasting maltiness of a lager with the more intense hoppiness of an IPA.
IPLs tend to be stronger in alcohol too. (A no-go for an NA beer, obviously.) Overall though, the style guidelines are pretty flexible.
IPLs used to be the forte of craft brewers. But they're now going mainstream, even in the non-alcoholic space.
Discount supermarket Aldi is one of the latest mainstream producers selling a non-alcoholic IPL.
Supermarkets have been slow to embrace the non-alcoholic beer revolution and Aldi was especially tardy on the NA front. This "Low Down" IPL, which has a design that makes it look remarkably like a can of Brewdog "Nanny State", is one of two canned non-alcoholic beers under its "Hop Foundry" brand.
Ingredients
There's no reliable info on whether this beer starts life as an alcoholic brew or not. There's also no info on the hop varieties used.
There aren't any nasties listed in the ingredients. The grains are barley malt and oats.
Calories, carbs and sugar
Low Down has just 13 calories per 100ml.
There's 2.1g of carbs and less than 0.5g of sugar per 100ml with less than 0.5g of sugar per can overall too.
Flavour, appearance and mouthfeel
Low Down pours clear amber with small bubbles and no foam. It looks more like a still cider than a beer.
US-style hops dominate the aroma with lemon, passion fruit, mango and grapefruit, but there's no pine or grassy aromas.
I sensed some of the grapefruit flavour was due to yeast esters, which indicates it's made with a similar low-alcohol yeast similar as Mikkeller's non-alcoholic beers and Guinness's "Pure Brew" NA beer.
There's low pale malt aromas.
The body is light, but it's not as thin as it looks in the glass. The carbonation is low and feels forced rather than natural.
It's no surprise that the tropical fruit flavours lead the taste, this time with a little more of a pale malt backbone.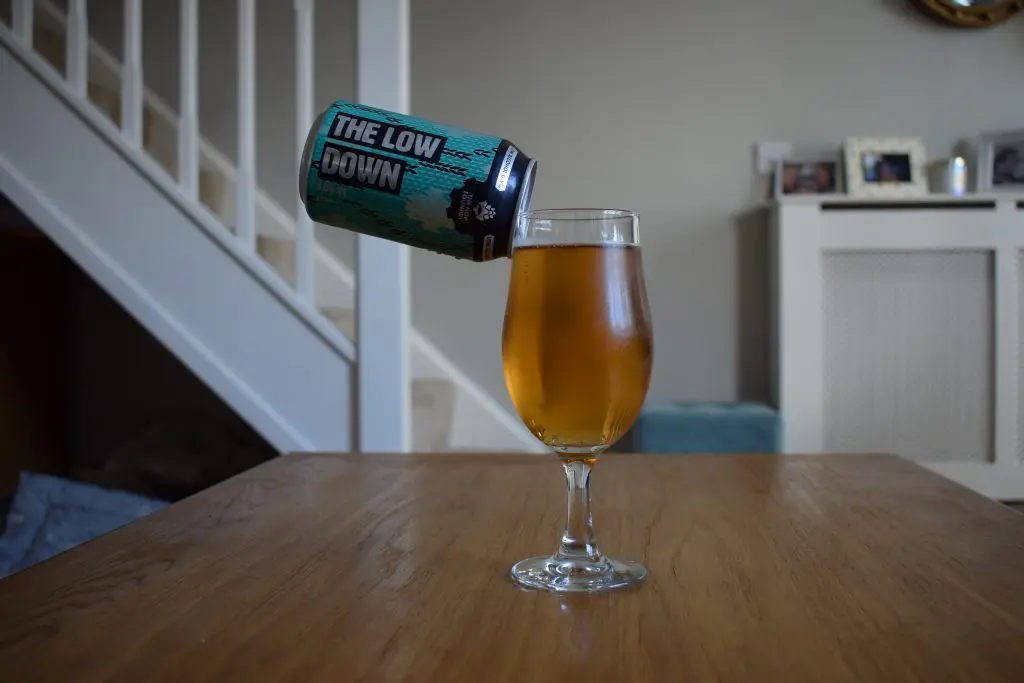 The estery grapefruit flavours are most pronounced. But the flavours fade quickly, leading to a dry finish
The bitterness is low, making it easy to down quickly.
Verdict
Ignore the low bitterness and fading flavour and this is a fair example of the IPL style.
It's not the greatest NA beer around. But it's a solid alternative to other soft drinks and may even appeal to those who don't normally drink beer thanks to its fruity flavours and low bitterness.
Key info – The Hop Foundry (Aldi) Low Down
Name: Low Down
Brewery: The Hop Foundry (Aldi)
Style: IPL
Alcohol content: 0.5%
Calories: 42 (per 330ml can)
Carbohydrates: 6.9g (per 330ml can)
Sugar: 0.5g (per 330ml can)
Ingredients: water, barley, oats, hops, yeast
Country: UK
Dispense: can (330ml)
Selected stockists (UK): Aldi