"Tripel" is a 0.4% Belgian Tripel-style beer from Belgium's Force Majeure brewery. In this review, get tasting notes and info on stockists, calories, carbs and ingredients.
Sugar is a funny old ingredient when it comes to beer.
Purists mock the big beer companies when they add processed sugars like corn syrup to their brews.
Yet sugar has been a key ingredient in many beers – most notably Belgian beers – for generations.
So what effect does sugar have on the finished beer?
It depends on the type of sugar used. Often, it simply contributes to alcohol levels by providing more fermentable sugars for the yeast to work on.
Other times it adds flavour and colour, as is the case with candi sugar – an unrefined sugar commonly added to Belgian beers, including tripels.
Originating from the Trappist brewery at Abbey of Westmalle, tripels are usually strong – about 7.5–9.5% ABV (alcohol by volume). They're so-called because of the extra grain used – around three times the amount of a standard beer.
As well as colour and flavour, candi sugars contribute to the mouthfeel of the beer, making it drier and less heavy than a typical high-ABV beer that relies only on grain sugars for its alcohol.
Despite the typical high-ABV of tripels, non-alcoholic versions are available. This one – simply named "Tripel" is from Belgium-based "gypsy" brewery, Force Majeure.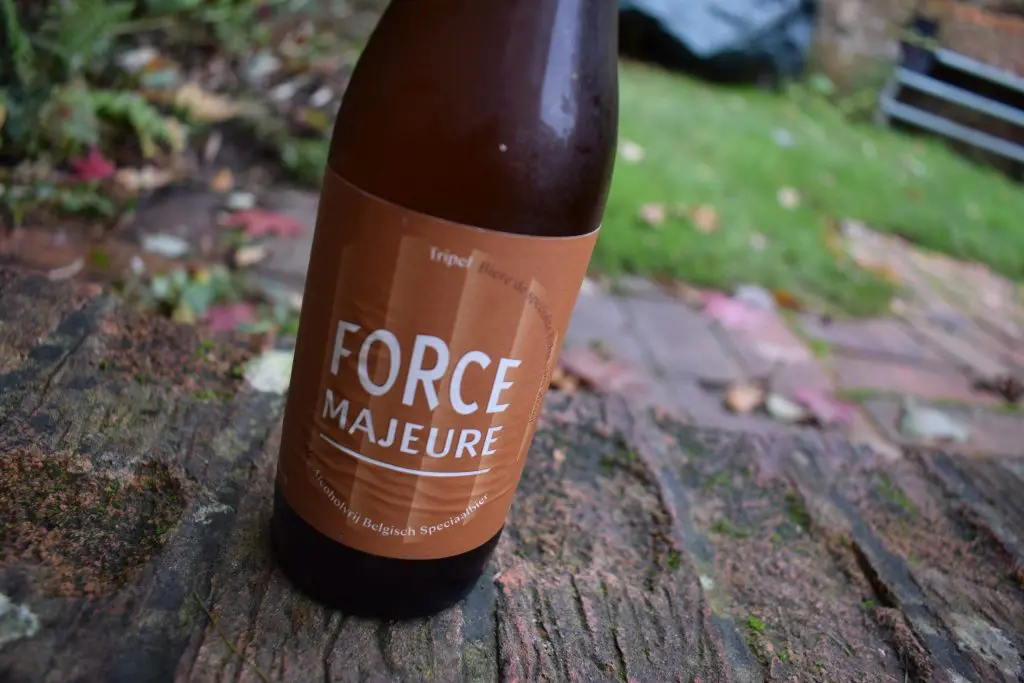 Force Majeure is Belgium's first specialist no alcohol brewery. This tripel sits alongside the brewery's blond beer in its two-beer range.
Ingredients
This beer features barley malt, wheat malt and oats in the grain bill.
Sugar is included in the ingredients as expected, along with the hops.
Natural flavourings are also included.
Calories, carbs and sugar
Beer is usually low in sugar – including any sugar added before fermentation – because most sugars are turned into alcohol by the yeast.
That's not always the case with non-alcoholic beer, especially with NA beers that haven't had any alcohol removed.
This tripel has 4g of sugar per 100ml – about 13.2g per 330ml bottle. That's from 4.5g carbs per 100ml and contributes to the 22 calories per 100ml.
Flavours, appearance and mouthfeel
Tripel pours darker than expected – a deep and dark copper. It's quite lively, producing lots of foam that quickly settles to leave a medium-sized head.
It has a slight haze.
The aroma is complex and appealing. A lightly roasted maltiness provides a foundation for a balance of a light whiff of ripe banana with spicy coriander, clove and pepper.
Additional floral hop aromas are present too.
Despite the liveliness of pouring, the carbonation is soft in the mouth and there's a soft yet full body. It has the creamy character that alcohol usually provides in a tripel.
It's heavy without feeling cloggy.
Banana, roasted orange and bubblegum grapple with a caramel maltiness in the taste.
Some of the spicy pepper and cloves flavours also make it across from the aroma, complementing rather than overpowering the fruit and malt flavours.
There's a dry, balanced bitter finish.
Verdict
Force Majeure's Tripel is superb. The only downside – if you're after a beer that mimics the finest alcoholic Belgian tripels – is the dominating presence of bananas flavours, which is probably a little more intense that the official style guidelines would allow.
Overall though, it has complex and interesting aromas and flavours, plus a body that doesn't belie its status as a no alcohol beer.
Key info – Force Majeure Tripel
Name: Tripel
Brewery: Force Majeure
Style: pale ale
Alcohol content: 0.4%
Calories: 73 (per 330ml)
Carbohydrates: 14.8g (per 330ml)
Sugar: 13.2g (per 330ml)
Ingredients: barley malt, wheat malt, oats, sugar, hops, flavouring, water
Country: Belgium
Dispense: bottle (330ml)
Selected stockists (UK): Wise Bartender*