"Reishi Citra Beer" is a 0.5% beer brewed with mushrooms from the Fungtn brewery. In this review, get tasting notes and info on calories, carbs, ingredients and where to buy.
Is non-alcoholic beer good for you?
If you're drinking it in place of standard beer, sure. Not only are you avoiding alcohol, but you're reaping its many health benefits (as long as you're keeping an eye on the sugar content).
Some producers are boosting NA beer's health and wellbeing credentials further by adding further nutrients or substances that deliver even more benefits.
UK-based Fungtn Brewing is a specialist non-alcoholic producer that brews its beers with myco adaptogens – medicinal mushrooms.
Mushrooms have been used in traditional medicine for millennia. More recently, they've become more popular in the health and wellness sector, commonly sold as extracts or powder. As with CBD, these mushrooms don't have psychoactive properties.
Fungtn founder Zoey Henderson set the brewery to offer people a way to consume myco adaptogens as part of their everyday routines
Pale ale "Reishi Citra Beer" is one of the brewery's three launch beers, alongside an IPA and a lager.
Ingredients
As the name suggests, this beer is brewed with reishi mushrooms. Each serving contains 0.5g, which is similar to the serving amount in popular reishi extracts and capsules.
Some studies suggest that reishi mushrooms can boost our immune systems, help reduce blood pressure and reduce anxiety. But research is limited.
In addition to water, barley malt, yeast and hops, the grain bill includes oats and wheat. The main hop variety is Citra, known for its tropical fruit aromas and flavours.
Reishi Citra Beer is vegan, and gluten free despite the grains in the ingredients.
Calories, carbs and sugar
There are 30 calories and 3.4g of carbohydrates per 100ml. This makes the calorie count higher than the average NA pale ale.
2.9g of the carbs are made up of sugar (per 100ml). This amounts to 9.57g.
Flavours, appearance and mouthfeel
Reishi Citra Beer pours deep amber with a slight haze.
A seltzer-like fizziness results in a satisfying head of white foam.
The aroma offers an initial hit of sweetness, featuring mango and grapefruit. Pale malt aromas follow, giving the sweet flavours a handy base.
Complexity advances with each sniff, with lemon and even a touch of raspberry joining the tropical aromas. The only sign of the fungi is a pinch of earthiness.
The mouthfeel is much smoother than expected, with the small bubbles witnessed on pouring offering no aggression. The body is low to medium – sufficient for this style of beer.
There's no stickiness or juiciness in the mouthfeel to back up the fruity aromas.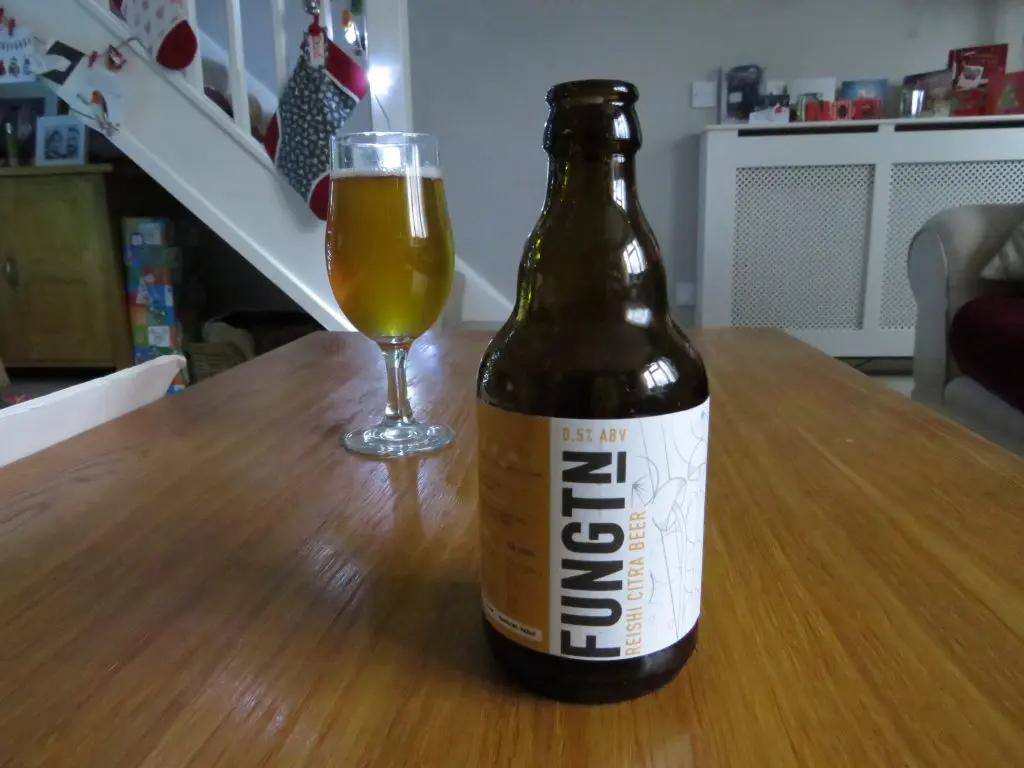 On tasting, a generous dose of bitterness will stop you chugging this back quickly. This poises with some similar flavours to those found in the aroma, with a little more focus on the lemon flavours.
That earthiness (from the hops – or even the mushroom?) is also there in the background, giving a solid base to the citrus.
There's a lovely dry, chalk-textured finish.
Verdict
Medicinal powers or not, this is a lovely beer.
The aromas and flavours are solid, yet stop at being too over the top and show offy.
The body maybe could be a little heavier. But its soft texture makes up for any shortcomings.
Key info – Fungtn Reishi Citra Beer
Name: Reishi Citra Beer
Brewery: Fungtn
Style: pale ale
Alcohol content: 0.5%
Calories: 99 (per 330ml bottle)
Carbohydrates: 11.2g (per 330ml bottle)
Sugar: 9.5g (per 330ml bottle)
Ingredients: water, hops, barley, wheat, oats, yeast, reishi
Country: UK
Dispense: bottle (330ml)
Selected stockists (UK): Wise Bartender*, Fungtn