"Easy Times" is a 0.5% CBD-infused India pale ale from the Hop & Hemp Brew Co. Get tasting notes and info on stockists, carbs, calories, sugar and stockists, in this review.
Sales of non-alcoholic beer are expected to grow around 43% worldwide in the five years from 2016, hitting the $19 billion mark in 2021.
Impressive growth. But it's nothing compared to the growth of legal hemp and marijuana products, which is expected to double every year for the foreseeable future.
Much is of this surge is down to food and drinks infused with CBD (cannabidiol).
This is a compound found in hemp and marijuana. It's not the same as the psychoactive compound THC (tetrahydrocannabinol), and doesn't make you high. It's legal in the UK and in many other regions.
Many people use CBD for health reasons. But it's usually sold as a food supplement, because medical aids need to be licensed and there's currently limited evidence of the health benefits of CBD.
It usually comes as an oil, which you put under your tongue. So it's no surprise that enterprising companies have come up with various CBD-infused foods and drinks to make the experience more palatable.
One of these companies is UK-based Hop & Hemp Brew Co with its range of non-alcoholic CBD beers.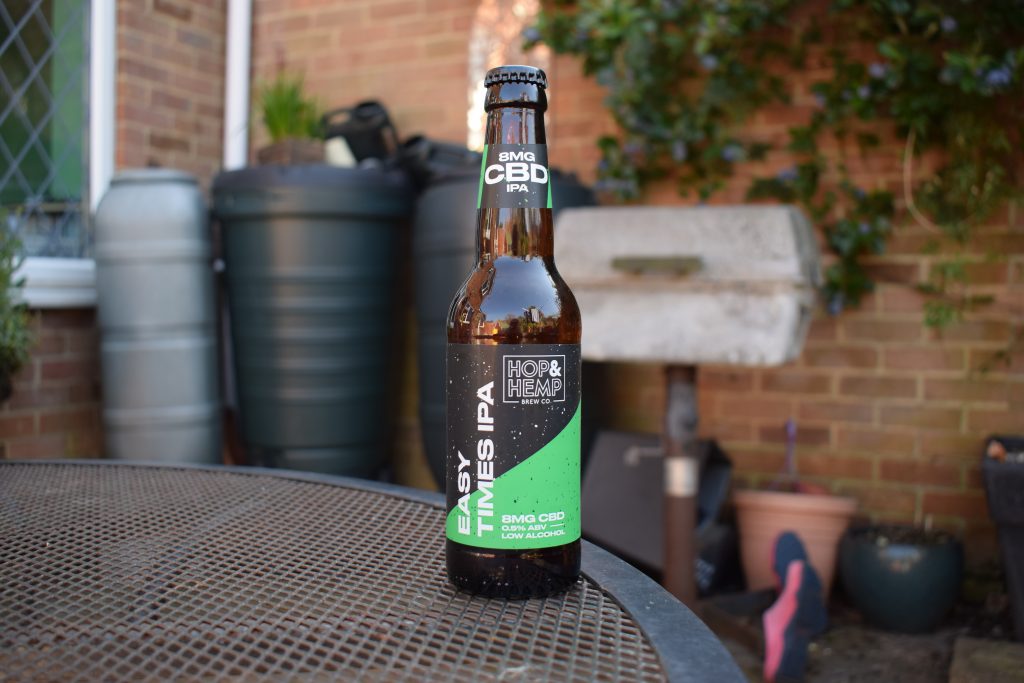 This one is an India pale ale called "Easy Times IPA". It contains 8mg of CBD, which is similar to each dose of CBD you get in products such as capsules and sprays.
Ingredients
As well as CBD, Easy Times IPA includes malted barley, oats, yeast, maltodextrin and hops.
It's suitable for vegans.
The hop varieties are Citra, Cascade and Mosaic.
Calories, carbs and sugar
This beer only has trace amounts of sugar (0.1g per 100ml) with 25 calories and 5g of carbs per 100ml.
Flavour, appearance and mouthfeel
Easy Times IPA pours a deep and clear amber colour. There's loads of tiny bubbles initially, but these soon dissipate leaving a tranquil-looking beer with a small brown-beige head.
There's an ever-so-slight wortiness in the aroma but this quickly fades as caramelised biscuit mixes with mango, passion fruit and lychee. It's an odd yet effective combo.
The mouthfeel is body is also good. It's viscous and heavy with a little stickiness. The bubbles are tight and lively so the carbonation may be a little harsh for some mouths.
Loads of the fruit and floral aromas also come through in the flavours, with the mango and lychee joined by pineapple. The malt profile lacks the caramelised biscuit from the aroma but there's still a little pale malt in there.
A medium bitterness kicks in halfway through each sip, which overpowers the other flavours briefly before a nice bitter finish.
Verdict
I'm yet to be convinced by the benefit of taking CBD. One thing I am convinced of though is that this beer is decent.
Great aroma and mouthfeel, and OK flavour wise too. And perfect for getting the health benefits of NA beer alongside your daily dose of CDB, if that's your thing.
Key info – Hop & Hemp Easy Times IPA
Name: Easy Times IPA
Brewery: Hop & Hemp
Style: India pale ale
Alcohol content: 0.5%
Calories: 81 (per 330ml)
Carbohydrates: 16.5g (per 330ml)
Sugar: 0.3g (per 330ml)
Ingredients: water, malted barley, oats, maltodextrin, cannabidiol (CBD) extract, hops
Country: UK
Dispense: bottle (330ml)
Where to buy (UK): Hop & Hemp