"Toasted Malty Tide" is a 0.5% beer from Australian brewery, Upflow. Get tasting notes and info on calories, carbs, ingredients and stockists, in this review.
What do you associate with the word, "malty"?
Despite my obsession with beer, my first thoughts turn to some of the unfermented foods and drinks made with malted grain, such as Maltesers, Horlicks, Ovaltine and malted milk biscuits.
That then triggers the memories of a few of the non-alcoholic beers I haven't enjoyed, which reminded me of these foods and drinks – Horlicks and Ovaltine in particular – rather than a beer.
However, after previously sampling Upflow's "Pale Ale" non-alcoholic beer, I was confident this wouldn't be the case with its "Toasted Malty Tide" beer – despite the name.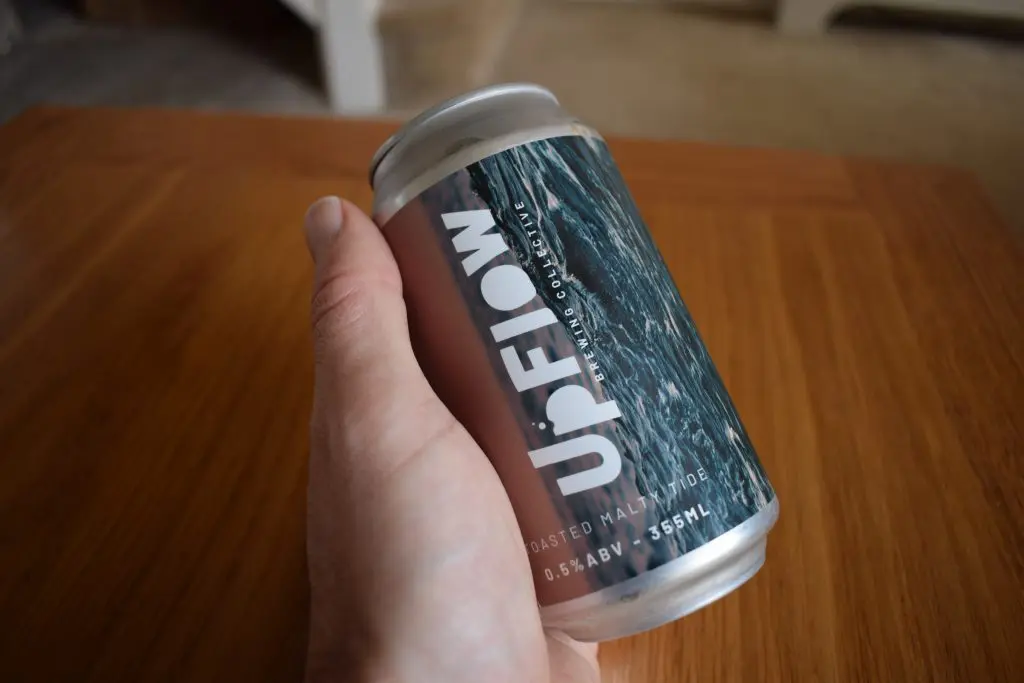 Upflow is an Australian brewery, specialising in ultra-low-alcohol brews under 0.5%. It currently sells it beers in Australia and the UK, with a slightly bigger range available in its home market.
Upflow came to the UK in late 2019 and early 2020. Founder Julian Sanders initially started the brewery as a technical and social experiment using his experience of setting up brewery and distillery systems.
Ingredients
There are no unusual ingredients or additives in Toasted Malty Tide, just water, yeast, hops and barley malt.
The malt variety is Munich Malt, which is often the base malt for British ales. The hops are Hallertau and Saaz, varieties of so-called "noble" hops common in European lagers.
Calories, carbs and sugar
Upflow doesn't provide information on carbohydrates and sugar on its packaging, so this might be one to miss if you're concerned by the amount of sugar in some NA beers.
There is info on calories – there are 80 calories per can (around 24 per 100ml).
Flavours, appearance and mouthfeel
Toasted Malty Tide pours deep amber with lots of haze.
There are loads of large bubbles, forming a big head to begin with. But this quickly settles to leave a few hunks of foam.
Hop flavours dominate the aroma with an earthy, flowery, orange quality, assisted by a speck of pepper.
Roasted pale malts meld with the hop aromas without overpowering them.
Despite tight bubbles, there's a gentle carbonation. This is all on a semi-decent low to medium body.
On tasting, the citrusy, earthy, flowery, orange-like flavours from the aroma take the lead, which suggests some of these are produced from the yeast as well as the hops. This then gives way to a wispy pale malt flavour followed by deeper, richer – almost chocolatey – roasted malts.
The malts also add a touch of caramel.
There's some sweetness, but it's kept in check by the dryer malts and a decent hit of bitterness at the end of each sip.
Verdict
This may be an Australian beer but it's more in the style of a traditional English bitter with its engrossing mix of fruity esters, earthy hop aromas and roasted malt backbone.
So many NA beers that purport to be in the style of a cask ale or traditional bitter fall short, usually providing too much of those unfermented malt flavours. That's definitely not the case with Toasted Malty Tide.
Key info – Upflow Toasted Malty Tide
Name: Toasted Malty Tide
Brewery: Upflow
Style: pale ale
Alcohol content: 0.5%
Calories: 80 (per 355ml can)
Carbohydrates: unknown
Sugar: unknown
Ingredients: barley malt, yeast, hops, water
Country: Australia
Dispense: can (355ml)
Selected stockists (UK): Wise Bartender*, Upflow