"Surfer's Summer Ale" is an ultra-low-alcohol (0.5%) pale ale from German brewery Insel. Get info on ingredients, calories, carbs, sugar and stockists plus tasting notes in this review.
Although I've come to love dark beers over the years, sometimes drinking a dark, malt-forward beer in warm weather feels plain wrong.
Yet I've got no such qualms about drinking lighter, fruitier beers all year round. Which is how I've come to be reviewing this summer ale from Germany's Insel Brewery in the dark month of December.
With light beers dominating its range and branding that makes continuous references to the coast, Insel is a good brewery to get to know if you're in a winter funk.
Founded in 2015 on the island of Rügen (Insel means "Island"), the brewery focuses on brewing less common styles of beer, conditioning all its creations in its distinctive paper-wrapped bottles rather than in conditioning tanks.
"Surfers Summer Ale" is one of four alcohol-free beers the brewery produces, all with a sea-based theme. Each comes in at less than 0.5% ABV.
Summer ale as a beer style usually gets lumped in with the blonde ale category, although the Brewers Association does have guidelines for an English-style summer ale.
Ingredients
There's nothing weird in the Surfers Summer Ale ingredients – just malted barley, malted wheat, hops, yeast and water.
There's no indication which varieties of malt and hops the brewery have used on the label.
Calories, carbs and sugar
The calorie count is a little higher than the average NA beer – 32 calories per 100ml.
Although there are 6.4g of carbohydrates per 100ml, less than 0.5g of this is sugar.
Flavours, appearance and mouthfeel
Surfers Summer Ale pours a deep and opaque amber, with an incredible head that dies down to leave a creamy and thick layer of foam.
There's a bit of everything in the aroma. Lightly roasted cereals mix with lemon, a smidge of passionfruit – possibly the product of a low-alcohol yeast – a sprinkling of sage and a little straw.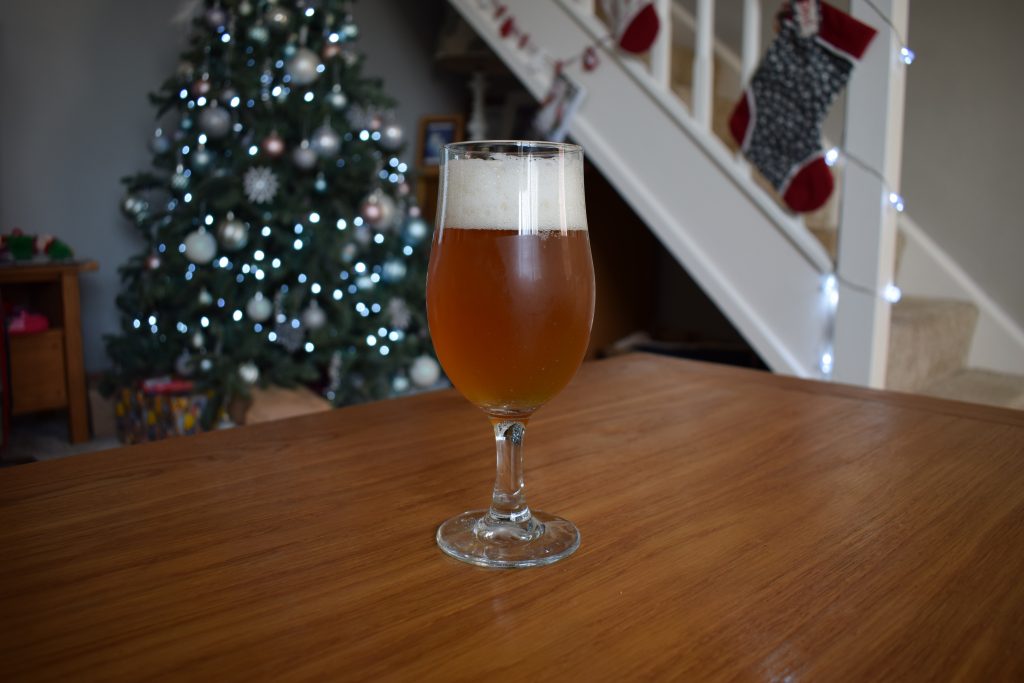 There's a distinct dankness to the aromas, reminiscent of Belgian ales.
The mouthfeel is soft, offering a medium body with tight bubbles from a gentle yet combative carbonation.
The finish is dry.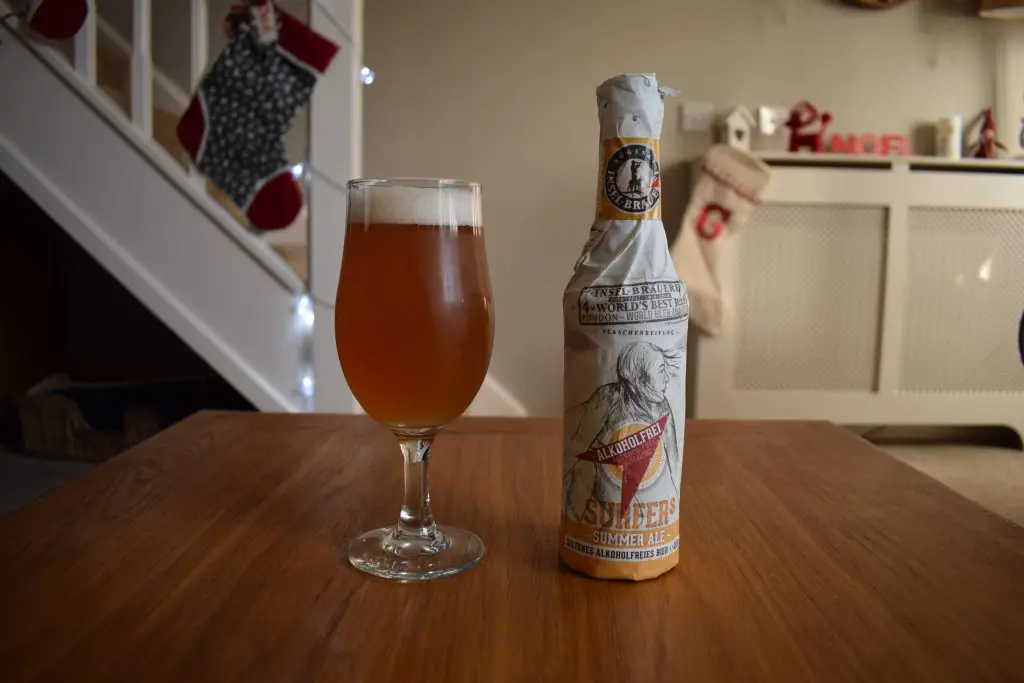 There's a satisfying hit of sweetness as it passes your lips.
Again, there's fruit in there but its plummier and less citrusy than in the aroma, balanced with dank, funky, almost chalky characteristics.
There's a bitterness that grows but never overwhelms the flavours.
Verdict
Surfers Summer Ale is another superb non-alcoholic beer from Insel.
Balancing malt, yeast and hop characteristics brilliantly, it's low in sugar too. So it's most definitely a guilt-free treat.
Key info – Insel-Brauerei Surfers Summer Ale
Name: Surfers Summer Ale
Brewery: Insel-Brauerei
Style: summer ale
Alcohol content: 0.5%
Calories: 106 (per 330ml bottle)
Carbohydrates: 21g (per 330ml bottle)
Sugar: 1.5g (per 330ml bottle)
Ingredients: water, barley, wheat, hops, yeast
Country: Germany
Dispense: bottle (330ml)
Selected stockists (UK): Wise Bartender*