"Binary Botanical" by the Good Living Brew Company is a light, ultra-low-alcohol table beer. Get tasting notes, plus info on ingredients, calories, carbs, and sugar in this review.
When it comes to pairing food and drink, wine is the usually the first drink that comes to mind.
But if you've ever drunk a stout with shellfish, an IPA with a spicy curry or even just a bitter with a ploughman's lunch, you'll know how the right choice of beer can enhance a meal.
Thanks to the craft beer revolution, beer and food matching is on the rise, with some brewers making beers that are meant to be drunk with food.
One of these producers is the Good Living Brew Company, which brews the Binary Botanical brand of tables beers. The original Binary Botanical beer is 4%. This ultra-low-alcohol one comes in at 0.5%.
The founders launched Binary Botanical beers in June 2018. Their aim was to create a lower-alcohol alternative to wine that would go well with food.
The name of the beer comes from the fact the brewers use leaves from the hops bine (the stem) as well as hop cones. They infuse the leaves – which come from the Sovereign and First Gold hop varieties – for five days during fermentation.
Other ingredients
In addition to hop leaves, the ingredients are water, pilsner-style barley malt, corn extract and natural flavourings.
Rather than beer yeast, the brewers use wine yeast. This usually produces different flavours to beer yeast and breaks down the sugars differently.
Binary Botanical beers are suitable for a vegan diet and meet the UK definition of gluten free.
Calories, carbs and sugar
Per 100ml, Binary Botanical 0.5 has 18 calories, 3.6 of carbs and less than 0.1g of sugar. So it's ideal if you want a low-calorie, low-sugar drink.
The servings are smaller than a typical beer too, at just 275ml per bottle (compared to the usual 330ml and 500ml).
Flavours, appearance and mouthfeel
Binary Botanical 0.5 pours a clear amber, with small bubbles and minimal foam. It looks more like a carbonated cider than a beer, which was likely the aim.
No foam equals no head in the glass.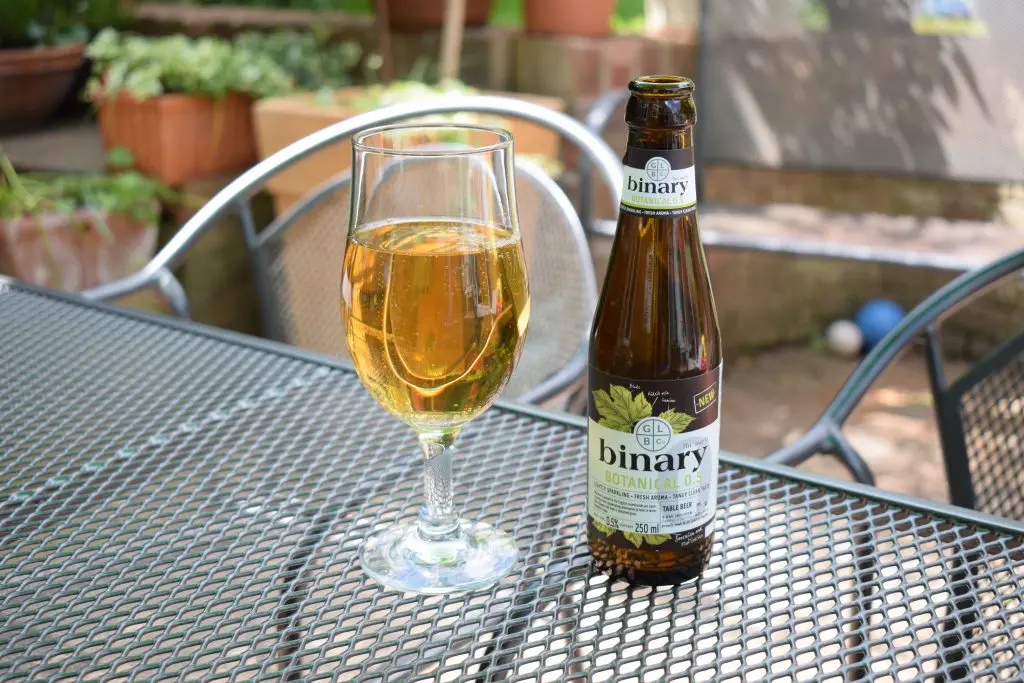 The aroma features lightly roasted malts, cider apple, and a touch of pineapple, peach and honey.
The body is light and reminiscent of a cider or sparkling wine, with a slight stickiness and pleasantly tacky finish. The carbonation is serene.
Fruity esters lead Binary Botanical 0.5's flavour, with peach and pineapple backed by light malt and wheat.
The fruits give it a tangy, almost sour character, smoothed off by the maltiness lasting into the aftertaste.
There's only a smidge of bitterness.
Verdict
Binary Botanical 0.5 delivers exactly what the producers set out to achieve – a light bodied, flavourful, non-alcoholic drink that goes well with food.
A typical beer it clearly is not. Treat it as a non-alcoholic replacement for wine or cider.
Key info – Binary Botanical
Name: Binary Botanical
Brewery: Good Living Brew Company
Style: pale table beer
Alcohol content: 0.5%
Calories: 50 (per 275ml bottle)
Carbohydrates: 9.9g (per 275ml bottle)
Sugar: 0.1g (per 275ml bottle)
Ingredients: water, hops, barley malt, natural flavourings, corn extract
Country: UK
Dispense: bottle (275ml)
Selected stockists (UK): Wise Bartender*, Binary Botanical