"Stripped Craft" from Norway's Nøgne Ø is a non-alcoholic Belgian-style blonde ale infused with lime. Get tasting notes and info on ingredients in this review.
Whether it's lager and lime or a slice of lime in a bottle of Corona, beer and lime have always been natural bedfellows.
And despite my avoidance of lime and soda when I'm not drinking, I'm a big fan of that little green citrus fruit (no jokes please, American readers).
One thing limes are handy for is complementing the citrus flavours provided by hops and yeast esters. And you don't need to have your own supply either – producers are already adding lime to the beers at various stages of the brewing process.
Big Drop's "Pine Trail" was the first beer that isn't really classed as a "fruit beer" I came across that used lime.
This "Stripped Craft" (0%) beer from Norway's Nøgne Ø is another that uses it. Nøgne Ø, which has been brewing since 2002, now exports its beers worldwide.
Like many craft brewers, it has expanded to offer dozens of varieties of beer. But Stripped Craft is its first foray into NA beer, launched in late 2018.
Ingredients and how it's made
Here, the brewers add fresh lime juice and lime zest to the beer. The barley malt is Maris Otter from the UK, plus a little malted wheat. Hops and the local water make up the ingredients list.
Rather than remove the alcohol from this one, the brewers stop fermentation early.
Calories, carbs and sugar
There's no info on the calorie, carbohydrate and sugar content on the packaging.
So this might be one to miss if you're counting the calories or avoiding sugar. Especially when you factor in the likely higher sugar content in beers that haven't fully fermented.
Flavour, appearance and mouthfeel
Stripped Craft pours hazy and straw-coloured, with a modest head of fluffy foam and lots of small bubbles rising to join it.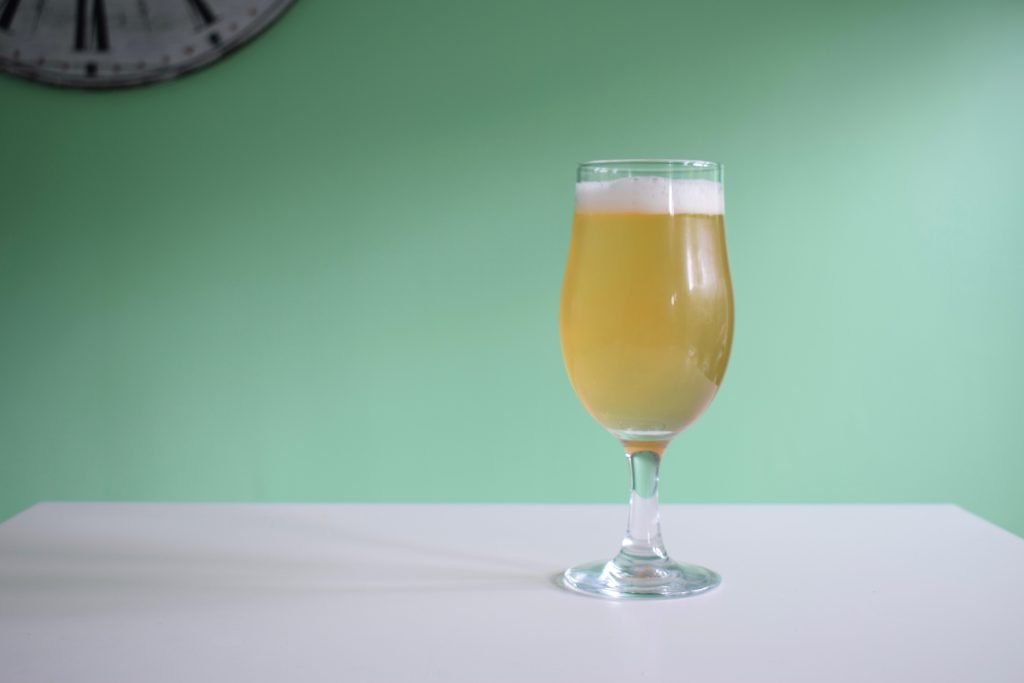 The aromas of new-world US hops dominate the aroma, with pine, grapefruit and lemon with the malts combining with the hops to add a touch of caramelised orange. These aromas manage to hide any lime.
It has a good, medium body with gentle carbonation provided by small bubbles that look harsher than they feel. The mouthfeel is soft without any creaminess.
The flavour is more perfumed and malty than the aroma. There's still some grapefruit, with lots of lime coming through as you sip, adding sweetness. But these flavours are also joined by blossom, pale malt and wheat flavours, which were missing in the aroma.
And a little lactic-like sourness that gradually builds as you drink.
There's a light zesty bitterness and a floral aftertaste.
Verdict
Stripped Craft, with its refreshing aromas and flavours, is definitely a beer for the summer. And it's not just lime that dominates, with lots of variety to enjoy as you sip.
A useful beer to have ready and chilling in the fridge.
Key info – Nøgne Ø Stripped Craft
Name: Stripped Craft
Brewery: Nøgne Ø
Style: golden ale
Alcohol content: 0%
Calories: unknown
Carbohydrates: unknown
Sugar: unknown
Ingredients: water, barley malt, wheat malt, hops, yeast, lime
Country: Norway
Dispense: bottle (330ml)
Selected stockists (UK): Wise Bartender*, Booze Free