"Chaga Lager" is a low-alcohol (0.5%), mushroom-infused lager from Fungtn. Get tasting notes in this review, plus find out its ingredients and calorie, carb and sugar content.
Before the recent rise in the popularity of non-alcoholic beer, a common misconception was that it was full of chemicals or special ingredients.
That's almost never been the case. While some non-alcoholic beers do occasionally include ingredients like maltodextrin, many still only feature beer's four essential ingredients – water, grain, hops and yeast.
However, many brewers are taking advantage of non-alcoholic beer's health credentials by adding special ingredients that can improve our health and wellbeing further.
One of these brewers is London's Fungtn Brewing Co, which as the name of the brewery hints at, adds mushrooms to its beers.
But why? Well, as well as being delicious/disgusting (delete where appropriate), mushrooms have health benefits too, with potential to help with everything from boosting our immune systems to treating cancer.
Fungtn launched in late 2020 with three beer styles each containing a specific variety of medicinal mushroom.
This 0.5% ABV lager features the Chaga mushroom, which grows on birch trees in cold climates. You can also consume in as a tea or a capsule. Its potential benefits include boosting your immune system, lowering cholesterol and reducing blood sugar.
Ingredients
"Chaga Lager" includes 0.5g of Chaga extract per 330ml bottle.
The grains are barley malt, oats and wheat. The hop varieties are Tettnanger and East Kent Golding. Tettnanger hops hail from Germany and are common in European pilsners while East Kent Golding are known for their earthy, spicy, floral flavours and aromas.
Chaga Lager is suitable for a vegan diet and is gluten free (less than 10 parts per million).
Calories, carbs and sugar
There are 30 calories per 100ml and 3.4g of carbs (of which 2.9g is sugar).
That's 99 calories, 11.2g or carbs and 9.5g of sugar per 300ml bottle.
Flavours, appearance and mouthfeel
Chaga Lager pours umber brown and opaque. There's a substantial brownish head on pouring, but this quickly dissipates leaving a ring of bubbles encircling a couple of small islands of foam.
The aroma is complex with malt providing caramel and toffee flavours and hops providing an earthy, semi-floral character with a touch of spice.
The maltiness is slightly smokey, and there's also a touch of sulphur which complements the other aromas.
The body is quite light, yet the mouthfeel has a little weight provided by what seems to be suspended hops and yeast.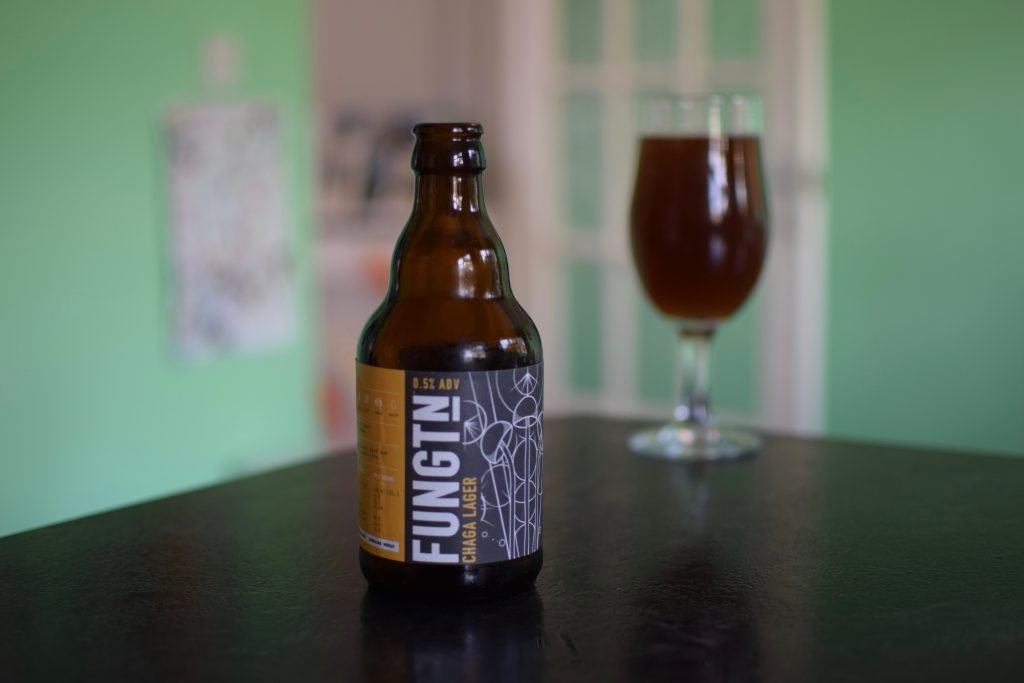 The bubbles somehow fight through the busy body to add a little prickliness.
The taste initially lacks the variety of the aroma, starting off quite neutral before a smokey, caramel-malt flavour kicks in. There's a dab of cocoa in there too.
A touch of fruit – lemon and caramel – then joins the malts, growing as you work your way through the bottles
The bitterness is modest, making its presence known at the end of each sip.
The finish is dry.
Verdict
Like many non-alcoholic craft lagers, this beer probably won't appeal if you're after a simple pale lager.
But it's got some good traits – the smokey malt and caramel flavours mixed with the earthiness of the hops are especially effective.
Key info – Fungtn Chaga Lager
Name: Chaga Lager
Brewery: Fungtn
Style: lager
Alcohol content: 0.5%
Calories: 99 (per 330ml bottle)
Carbohydrates: 11.2g (per 330ml bottle)
Sugar: 9.5g (per 330ml bottle)
Ingredients: water, hops, barley, wheat, oats, yeast, chaga
Country: UK
Dispense: bottle (330ml)
Selected stockists (UK): Wise Bartender*, Fungtn