"Pure Brew" is an amber, fruity 0.5% lager from Guinness's experimental brewery, Open Gate. Get tasting notes, plus info on ingredients, carbs, sugar, calories and stockists.
You might not know (I didn't) that, as it churns out pint after pint of its flagship stout porter, Guinness runs an experimental brewery to test new recipes and brewing processes.
This microbrewery is situated in Dublin, not far from the main Guinness museum. But it's not just another Guinness attraction, despite its popularity with tourists. Brewers at the Open Gate Brewery are responsible for several new Guinness products, including its Hop House 13 lager, Open Gate Citra IPA and Open Gate Pilsner.
Guinness's experimental brewery also developed a 0.5% lager. "Pure Brew". Launched in 2018, it's now widely available in selected supermarkets in Ireland and the UK (although I've struggled to find this in the south of England).
It's Guinness's second non-alcoholic beer after Kaliber, once the only NA beer on the block until the arrival of Beck's Blue in the late 1990s.
How Pure Brew is made
The name of this beer is a nod to the technique brewers use to make sure this beer is ultra-low in alcohol.
Instead of removing the alcohol through distillation or reverse osmosis, brewers create a low-alcohol beer from the off with a "special" yeast strain.
Ingredients
There aren't any wacky ingredients in Pure Brew either, just water, malted barley (pale and crystal malt), roasted barley and hops.
Unusually for a traditional lager-style beer, the hop varieties – Galaxy, Topaz and Mosaic – are from the US and Australia with only the Topaz hops offering the threat of the spiciness you might find in a traditional pilsner.
Calories, carbs and sugar
The calorie, carb and sugar content is quite high. There are 28 calories, 6g of carbs and 3g of sugar per 100ml.
Flavours, appearance and mouthfeel
On pouring, Pure Brew is classically clear and amber. There are lots of silent bubbles rising all the time, creating a moderate head of foam that doesn't shift as you drink it.
The aroma begins simple and clean and dominated by pale malts and a wisp of straw. This is soon joined by lemon, then grapefruit that quickly dominates. It's very similar to the aromas in a Mikkeller non-alcoholic beer, making me wonder if the brewers have developed a similar yeast strain.
The body is sufficiently heavy with no signs of being watery. Despite the tight bubbles, it's smooth and courteous – almost creamy – as it slips down.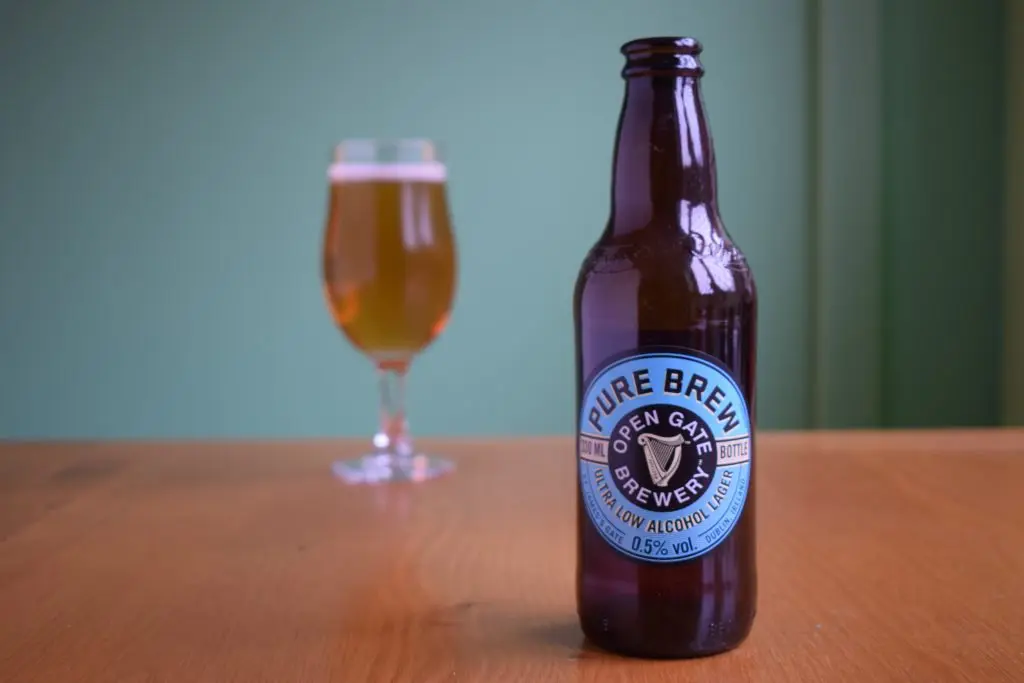 The grapefruit features heavily in the flavours and this time it's a bit overwhelming and sweet. Some pale malts and more straw add some variation.
A balanced bitterness grows the more you drink, contributing a slither of soapiness near the end of a serving.
Verdict
The strong grapefruit tones in Pure Brew mean it won't win any awards in the lager category in a competition. But it's pretty decent if a little high in calories and sugar.
There's a nice mouthfeel, delicious aroma and a solid flavour, despite the odd blip.
Key info – Guinness Open Gate Brewery Pure Brew
Name: Pure Brew
Brewery: Guinness Open Gate Brewery
Style: lager
Alcohol content: 0.5%
Calories: 92 (per 330ml bottle)
Carbohydrates: 20g (per 330ml bottle)
Sugar: 10g (per 330ml bottle)
Ingredients: water, malted barley, hops, roast barley
Country: Ireland
Dispense: bottle (330ml)
Stockists (UK): Amazon*, Wise Bartender* and some major supermarkets