"Point Five" is a 0.5% ABV pale ale from Yorkshire's Hambleton Brewery. Get tasting notes and info on stockists and ingredients in this short review.
Go back a couple of years and it felt like it was just the specialist alcohol-free breweries like Nirvana and Big Drop or the big brewing corporations who were making alcohol-free and low-alcohol beers.
Now though, more and more non-specialist small and medium breweries are producing an alcohol-free beer to sit alongside their full-strength range. One of these is Hambleton Ales brewery with its "Point Five" pale ale.
Born in a back garden's outbuilding in 1991, Hambleton is based in Melmerby, Yorkshire. It produces around 288,000 pints of beer a week so it's not really a microbrewery anymore. But that's still minuscule compared to the big brewing giants and still well off the volumes most regional breweries produce.
Hambleton isn't new to making "free from" beers. In 2005, it launched its first gluten-free beers and now even brews a gluten-free cask ale alongside three core gluten-free bottled beers.
Hambleton also has form with alcohol-free beer as a contract brewer for Cipher, which produces its "Mindful IPA" beer at the brewery.
Process and ingredients
Rather than removing the alcohol from its beer, Cipher brews its Mindful IPA as a low-alcohol beer from the get go. So I'm assuming the same happens with Point Five.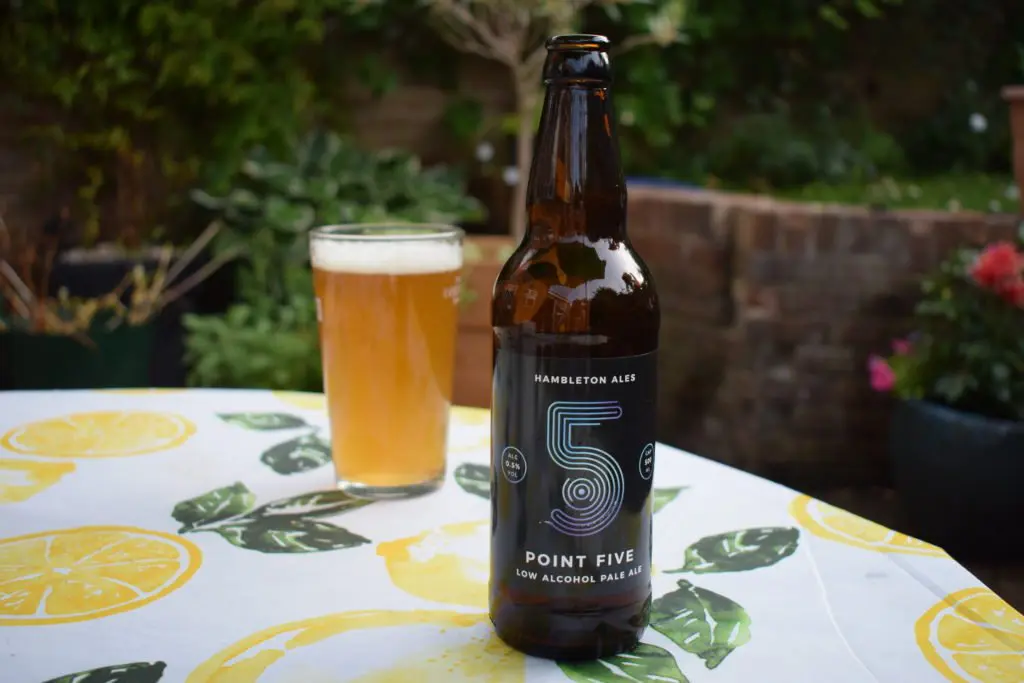 Point Five's top-level ingredients are also the same as Mindful IPA, with fruity American hops, lactose (milk sugar), malted barley, yeast and water.
The brewery hasn't provided any info on nutritional content such as calories, carbs and sugar. Similar beers are usually low on calories, although the lactose will add to the calorie and carb count.
Taste, appearance and aroma
There's a touch of cloudiness in this beer. It's amber in colour and has a fluffy head that reminds me of an ale served straight from the cask.
It's lively from the bottle (my notebook now smells of beer) and the carbonation is harsher than that of a cask ale. Yet it's smooth in the mouth and the bubbles get
The body is good – thick and viscous – helped by whatever it is that's making it cloudy.
The aroma isn't dominated by the US hops like many NA pale ales. Instead, sherberty lemon and passion fruit scents intertwine with a light yeasty-malt combo.
That maltiness sits nicely with the hit of bitterness that leads into the other flavours in the taste, namely more of those refreshing lemon and tropical fruits, which cut through the bitterness leaving a nicely balanced beer.
The finish is dry – standard.
Verdict
I reckon Hambleton Ales' Point Five will be a hit with real ale drinkers who are gasping for a cask beer. The malt/fruit combination in the aroma is a joy. I'd just love to have sensed a bit more of that light malt flavour in the taste.
And no, despite being brewed under the same roof, Point Five isn't a rebranded version of Cipher's Mindful IPA – they're very different beers and both worth a try.
Key info – Hambleton Ales Point Five
Name: Point Five
Brewery: Hambleton Ales
Style: pale ale
Alcohol content: 0.5%
Calories: unknown
Carbohydrates: unknown
Sugar: unknown
Ingredients: water, malted barley, hops, lactose
Country: UK
Dispense: bottle (500ml)
Selected stockists (UK): Wise Bartender*, Hambleton Ales