"Fieldhopper" is a golden ale style NA beer from Big Drop Brewing. In this review, get tasting notes and info on calories, carbs, sugar, ingredients and stockists.
Some might argue that the golden ale style of beer has been around for eons.
But most accept it was conceived in the 1980s, designed by breweries to bridge the gap between lager and real ale.
Hop Back "Summer Lightning" was the first popular golden ale, in the UK at least. First brewed in 1986 out of the Wyndham Arms brewpub in Salisbury, this beer soon gained a following from lager drinkers looking to expand their beer horizons and real ale drinkers looking for a lighter, more refreshing beer.
Golden ale was originally brewed with British ingredients, but as more and more breweries have produced it, it's now not unusual to see it made with modern hops. And it's no longer just a summer beer, with availability all year round.
Few breweries have attempted a non-alcoholic golden ale – only St Peter's and Athletic spring to mind. Now, specialist NA brewery Big Drop has produced one.
Named "Fieldhopper", it uses what it calls "quintessentially English" hops and – like all Big Drop beers – comes in at less than 0.5% ABV.
Ingredients
The hop variety in Fieldhopper is indeed the English East Kent Goldings hop, first grown in the 18th century. It's only grown in the south-east of the UK and is known for its earthy, spicy aromas and honey-like bittering characteristics.
Along with barley malt, water and yeast, this beer also contains maltodextrin, a starchy powder that can aid mouthfeel in beer and is common in many foods.
Fieldhopper is gluten free (less than 20PPM of gluten) and suitable for vegans.
Calories, carbohydrates and sugar
Fieldhopper has 12.4 calories per 100ml.
There are just 1.2g of carbs, of which only 0.1g is sugar. So, it's an ultra-low-sugar beer.
Flavours, appearance and mouthfeel
Fieldhopper pours clear amber. Carbonation seems low so there are few bubbles and a little head. This results in the bubbles that are present leaving a little lacing on the glass as you sip.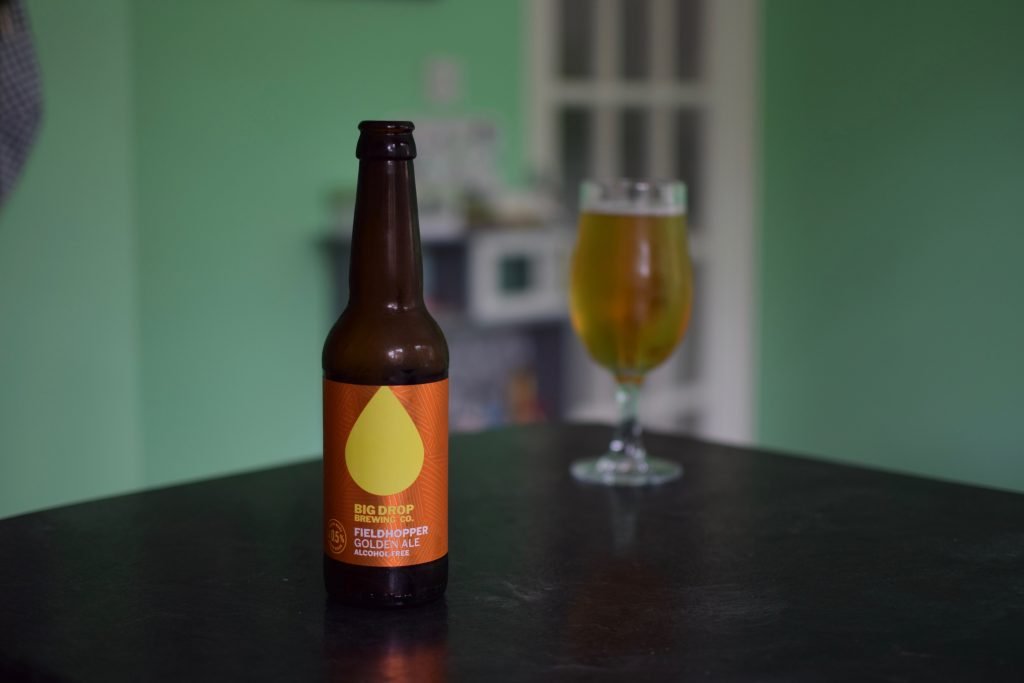 The East Kent Goldings hops offer a floral, earthy character along with honey and pepper.
There's a base aroma of pale malt, which offers a smidge of wholemeal bread.
The light body aligns with the style, while the mouthfeel is smooth and a touch tacky. The carbonation is prickly, but gentle.
There's a floral punch to the flavour on tasting, which is joined by red apple, peach and light malts, plus a touch more honey.
It's simple and refreshing.
The bitterness grows with each sip, providing a bitter finish that lasts until the next gulp. The bitterness overwhelms the other flavours a tad by the time you reach the end of a bottle.
Verdict
Big Drop have already nailed the stout and pale ale styles when it comes to NA beer. And Fieldhopper is a fine example of a golden ale.
The taste is somehow simple yet varied, and the aroma and mouthfeel are excellent too. A good beer to have chilling ready for a hot day.
Key info – Big Drop Brewing Co Fieldhopper
Name: Fieldhopper
Brewery: Big Drop Brewing Co
Style: golden ale
Alcohol content: 0.5%
Calories: 41 (per 330ml can)
Carbohydrates: 2.2g (per 330ml can)
Sugar: 0.1g (per 330ml can)
Ingredients: water, barley, wheat, hops, yeast, maltodextrin
Country: UK
Dispense: bottle (330ml)
Selected stockists (UK): Wise Bartender*