Drop Bear "Tropical IPA" is a low-alcohol (0.5%), low-calorie India pale ale. Get tasting notes in this review, plus find out its ingredients and calorie, carb and sugar content.
Whether or not the legend that IPAs were originally designed to withstand the long trip from England to India is true, one thing beer historians can agree on is that they were originally brewed as a medium strength, hoppy ale.
Fast-forward 200 years or so and IPAs are still being brewed – if not shipped – around the world. This is why it's now so difficult to define the style – ask a craft brewer from the US west coast to describe a typical IPA and their answer will be a lot different from the answer a traditional ale brewer from the UK.
One thing that is clear is that IPA is a style popular with non-alcoholic beer producers, especially ones featuring newer strains of hops that produce the tropical flavours typical in many US-style IPAs.
As the name suggests, Drop Bear Brewing's "Tropical IPA" is one such non-alcoholic beer. Drop Bear is a new brewery, based in South Wales. It launched this beer in 2019 along with its "Yuzu Pale Ale".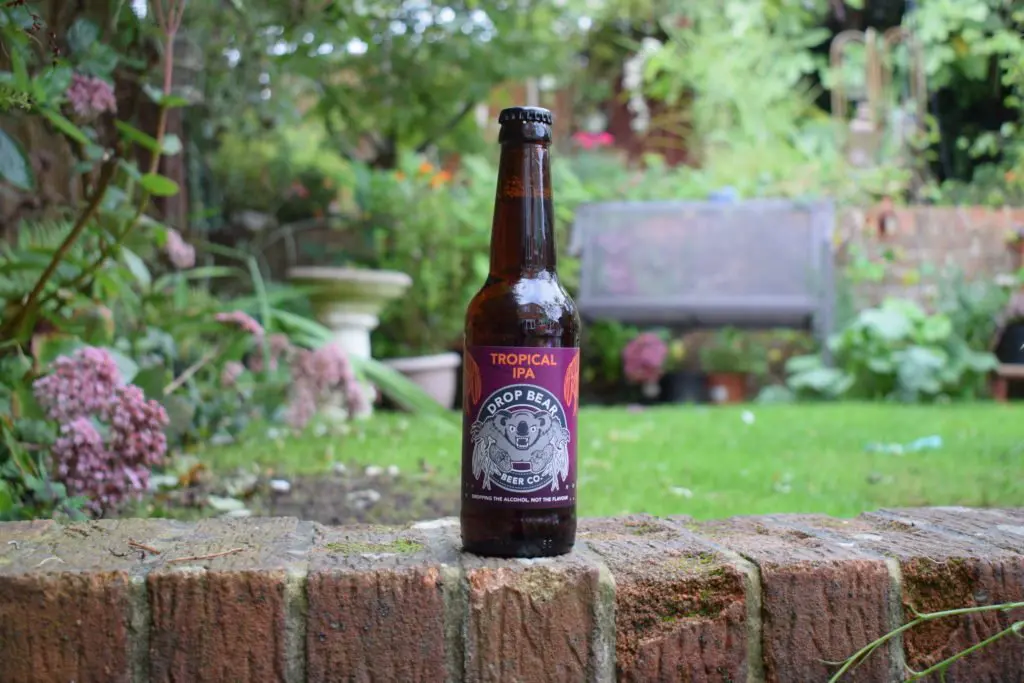 The brewery, which specialises in NA beer, has a stout on the horizon too.
Ingredients and carb, sugar and calorie content
Coming in at 0.3%, Drop Bear's Tropical IPA features modern Ekuanot, Simcoe, Citra, Galaxy hops along with Munich, DRC, Caramalt and Chocolate malts.
There's also some wheat and oats in there, which are a common combination in crafty alcohol-free beers.
Despite that hefty malt bill, Tropical IPA is gluten free. It's all good for vegans too.
It's ultra-low in calories with just 25 per 330ml bottle. Sugar content is low too with just 0.3g per bottle from 2g of carbs.
Appearance, flavour and mouthfeel
Tropical IPA pours a classic IPA copper colour. There's a busy caramel-coloured head on pouring that reduces to a film of bubbles that leave a little lacing as you drink.
The aroma initially reminded me of a traditional bitter, with a modest maltiness that isn't dominated by the hops like so many NA pale ales.
The hops (and possibly the yeast) have provided some fruit in the aroma though, playing second fiddle to malt. Those fruit aromas are peach, lychee, mango and burnt orange and come through mid-sniff. There are some savoury undertones too with a little earthiness and green pepper in the background.
Overall, there's lots going on in the aroma thanks to that choice of hops. But the aromas work together well.
The body is quite light with tight carbonation. You probably won't like it if you prefer your beers to have a creamier mouthfeel.
The flavour on tasting is malt-forward much like the aroma. And also like the aroma, the fruits don't make an appearance until a little later in the sip. More on that in a mo.
First though, the caramel maltiness combines with 46 IBUs to pack a punchy bitterness that builds a good platform for some sweeter flavours. When the fruitiness kicks in, it's burnt orange and a touch of peach.
The bitterness lasts long after each sip and the aftertaste is dry.
Verdict
Although Drop Bear's Tropical IPA isn't as thick and resinous and the leading US-style non-alcoholic IPAs, it's a decent shout if you like your tropical aromas and bitter, caramel flavours.
And if you're looking for a beer that's low in calories and sugar, it should be one of your go-to ales.
Key info – Drop Bear Beer Co Tropical IPA
Name: Tropical IPA
Brewery: Drop Bear Beer Co
Style: India pale ale
Alcohol content: 0.5%
Calories: 25 (per 330ml bottle)
Carbohydrates: 2g (per 330ml bottle)
Sugar: 0.3g (per 330ml bottle)
Ingredients: water, malted barley, malted wheat, oats, yeast, hops
Country: UK
Dispense: bottle (330ml)
Selected stockists (UK): Amazon*, Wise Bartender*