Drop Bear "New World Lager" is a low-alcohol (0.5%), low-calorie lager. Get tasting notes in this review, plus find out its ingredients and calorie, carb and sugar content.
It used to be uncommon to see breweries producing both ales and lagers.
The smaller ones, who are less likely to have the storage facilities to lager their beers, mainly stuck to ales. Meanwhile, the bigger breweries stuck to lager – the most popular – and most lucrative – beer style in most regions from the mid-20th century onwards.
The rise in profile of real and craft beer has shifted the balance slightly. Some smaller breweries now produce the odd lager, while the bigger breweries are carving chunks out of the ale market, often by acquiring existing micro and regional breweries.
Specialist non-alcoholic breweries are especially likely to produce a lager to slot in alongside their pale ales, stouts and IPAs in their core beers. For instance, Big Drop has "Uptown", Infinite Session has "Infinite Lager" and Jump Ship has "Yardarm".
A lager was missing from Drop Bear's portfolio until recently. Launching with a pale ale and IPA, and then adding a stout to its collection of core beers, it now has this 0.5% "New World Lager".
Based in South Wales and launched as a "gypsy" brewery, Drop Bear is now building what will only be the second non-alcoholic brewery in the UK funded with crowding campaigns and a sizeable chunk of funding from the founder of Admiral, a financial services company also based in South Wales.
New World Lager is styled as an IPL or India pale lager. So don't expect the clean, simple flavours you get from an American pale lager or pilsner – this one's designed more like an IPA.
Ingredients and how it's made
New World Lager uses two varieties of barley malt – Lager and Vienna – plus wheat malt.
The hops – Motueka, Rakau, Wai-iti – are all from New Zealand, (hence the "New World") tag and all relatively new varieties.
There's no lactose or added sugar, with water and yeast the only other ingredients.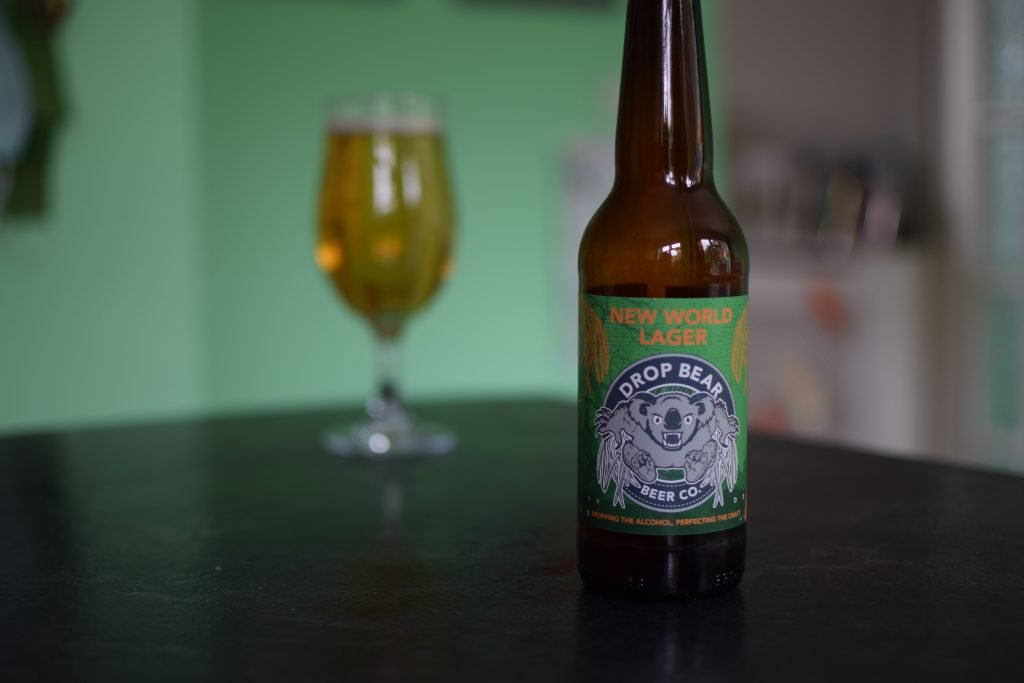 All of Drop Bear's beers are gluten free (less than 20PPM of gluten) and suitable for a vegan diet.
The brewery produces ultra-low-alcohol beers from the off, rather than dealcoholise the beers after fermentation.
Calories, carbs and sugar
All of Drop Bear's beers so far are low in calories and sugar compared to a typical NA beer.
This one has just 7.5 calories per 100ml, with 0.4g of carbs (including 0.1g of sugar) per 100ml.
Flavours, appearance and mouthfeel
New World Lager pours clear amber with small bubbles that produce a bouncy-looking head.
This eventually dissipates leaving a few bubble floating on top, plus a ring of foam.
Malt leads the aroma on initial sniffs, with wholemeal toast and caramel leading nicely into a perfumed hoppiness that's reminiscent of an UK-style bitter.
As it warms, these flavours are joined by a touch of grapefruit – possibly esters produced by the yeast.
The mouthfeel mimics a classic pale lager with a low to medium body and small bubbles. However, it's slightly creamier than a typical mass-produced lager with weaker carbonation.
The malts again lead the flavour, with digestive biscuit and caramel that merges into a slightly earthy, floral taste.
The fruit flavours build in each sip, leading to a fruity finish featuring lemon and grapefruit.
A bitterness that's substantial but not overpowering also builds in each sip.
Verdict
This may be a lager but I think this beer will appeal to those looking for a no-alcohol alternative to their favourite British bitter or IPA with its malty, earthy, floral flavours.
I really enjoyed it. But if you're looking for a classic pale lager, this may not satisfy the urge.
Key info – Drop Bear Beer Co New World Lager
Name: New World Lager
Brewery: Drop Bear Beer Co
Style: lager
Alcohol content: 0.5%
Calories: 25 (per 330ml bottle)
Carbohydrates: 1.3g (per 330ml bottle)
Sugar: 0.3g (per 330ml bottle)
Ingredients: water, malted barley, wheat, oats, hops, yeast
Country: UK
Dispense: bottle (330ml)
Selected stockists (UK): Amazon*, Wise Bartender*