"Implosion" is a 0.3% ultra-low-alcohol hoppy pale ale from Denmark's To Øl brewery. Get tasting notes and info about ingredients, calories and stockists in this review.
Setting up a brewery costs hell of a lot, even for the smallest of microbreweries.
But what if you could start a brewery without shelling out on premises, utilities and equipment?
That's the idea behind so-called "gypsy" or "cuckoo" breweries. Without premises of their own, these breweries cut out the upfront set-up costs by renting or subcontracting other breweries' equipment – and sometimes, their skills and expertise too.
This is a popular approach for many specialist non-alcoholic breweries with Big Drop, Infinite Session and Coast just three examples of NA breweries that have followed this path in the UK.
But it's most likely Scandinavia where the gypsy model first came to prominence, with Denmark's Mikkeller brewery probably the most well-known exponent of this approach.
Another Danish brewery that initially used the gypsy brewing model is To Øl. Founders Tore Gynther and Tobias Emil Jensen turned a home brewing project into a commercial undertaking in 2010.
Operating as a gypsy brewer for 9 years, To Øl now has its own premises. But it still produces the odd beer at other breweries.
Like most forward-thinking breweries, To Øl brews beers under 0.5%. I reviewed its "Under the Radar" farmhouse ale a few months ago, which it produces at De Proefbrouwerij in Belgium.
This time, I'm tasting "Implosion", a pale ale brewed at its own brewery in Denmark.
Ingredients
Implosion is brewed with Maris Otter barley malt and a touch of wheat malt, while the hop varieties are Hallertau Blanc, Citra, Tettnanger and Mosaic, promising fruity and floral flavours.
The yeast is a special low-alcohol yeast, which means no alcohol is removed from this beer after fermentation – it's naturally ultra-low in alcohol.
Calories, carbs and sugar
The brewing method means there's a fair bit of sugar left in this beer when it's packaged – 3.4g per 100ml, making up all the carbohydrate content.
The calorie count is 23 per 100ml.
These nutritional figures are exactly the same as To Øl 's Under the Radar NA beer, which suggests Implosion be the same beer with a few tweaks.
Flavour, appearance and mouthfeel
Implosion pours mellow yellow. It's hazy, with a big head of foam that quickly dissipates to a thin lid of bubbles that clings to the side of the glass with each sip.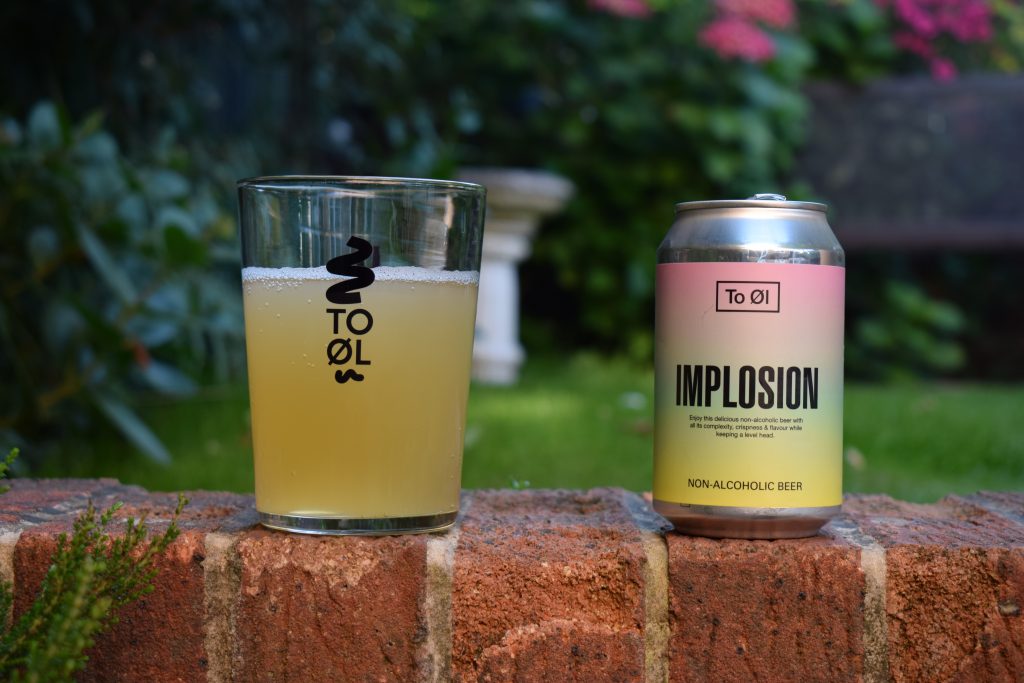 The aroma is juicy and fruity with a resinous edge. There's grapefruit, passionfruit, sherbet and hints of lemon, bubblegum and banana.
The body is full, the mouthfeel soft. There's a light and gentle carbonation. It feels pretty luxurious.
Fruits also dominate the flavours on tasting, with tropical fruit – mango and grapefruit – peach and lemon. This is backed up with a touch of pale malt and wheat flavours and balanced by a gentle hit of bitterness at the start and end of each sip.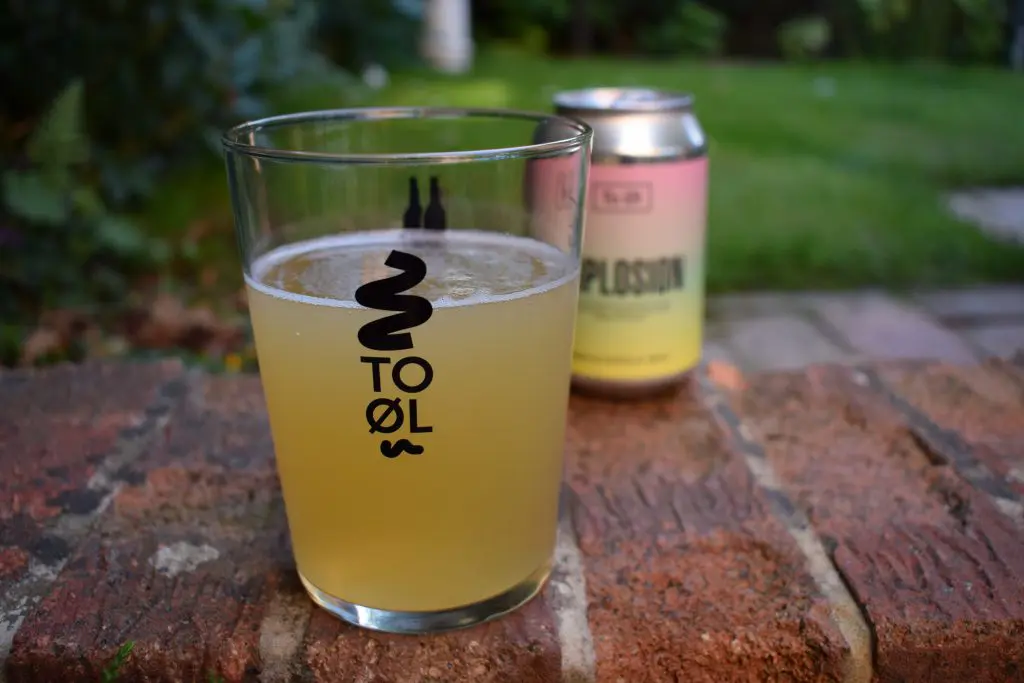 The bitterness grows after each sip, but doesn't get chance to overwhelm the other flavours before you reach the end of a serving.
Thanks to all that fruity flavour, the finish is sweet.
Verdict
I much preferred Implosion to Under the Radar.
It's not a typical pale ale, borrowing some of the aromas you usually get in a wheat beer. But it's got some lovely fruity flavours in the aroma and taste.
Lovely.
Key info – To Øl Implosion
Name: Implosion
Brewery: To Øl
Style: pale ale
Alcohol content: 0.3%
Calories: 76 (per 330ml can)
Carbohydrates: 11g (per 330ml can)
Sugar: 11g (per 330ml can)
Ingredients: water, barley malt, wheat, hops, yeast
Country: Denmark
Dispense: can (330ml)
Selected stockists (UK): Wise Bartender*