Big Drop "Double Strike" is a low-alcohol, entry-level sour-style beer. Read this review to get tasting notes and info such as calories, stockists, carb and sugar content and details on how it's made.
There's little doubt that sour beers are an acquired taste.
This was exemplified by my visit to the world-famous Cantillon Brewery in Brussels, a trip taken a decade ago as my tastebuds were only just starting to transition from dull-tasting mass-produced lager to decent beer.
Cantillon is renowned for its lambics. These are acidic-tasting beers that rely on exposure to wild yeast in the air for fermentation rather than the yeast added intentionally in the brewery.
Of course, I took a sip of one of Cantillon's beers, tried not to screw up my face in front of our tour guide, and quietly declared that sour beers weren't for me.
Now of course, my palate is more forgiving and I've already been impressed with the two alcohol-free sour beers I've reviewed so far – Nirvana and London Fields' "Zen and Berries" collaboration and Mikkeller's "Hallo, Ich Bin".
But, I can still see that sour beers, with their acidic flavours, might not be to everyone's tastes. Would Big Drop Brewing's "Double Strike" more be accessible, not just for fans of the style but for drinkers looking for more variety in their alcohol-free beer collection?
How is Big Drop Double Strike made?
Big Drop already excels in several alcohol-free beer styles, including a stout, an IPA, a pale ale and a brown ale. Double Strike uses many of the same experimental methods as these beers, ensuring a very low ABV beer from the off with no need to remove any alcohol to reach 0.5%.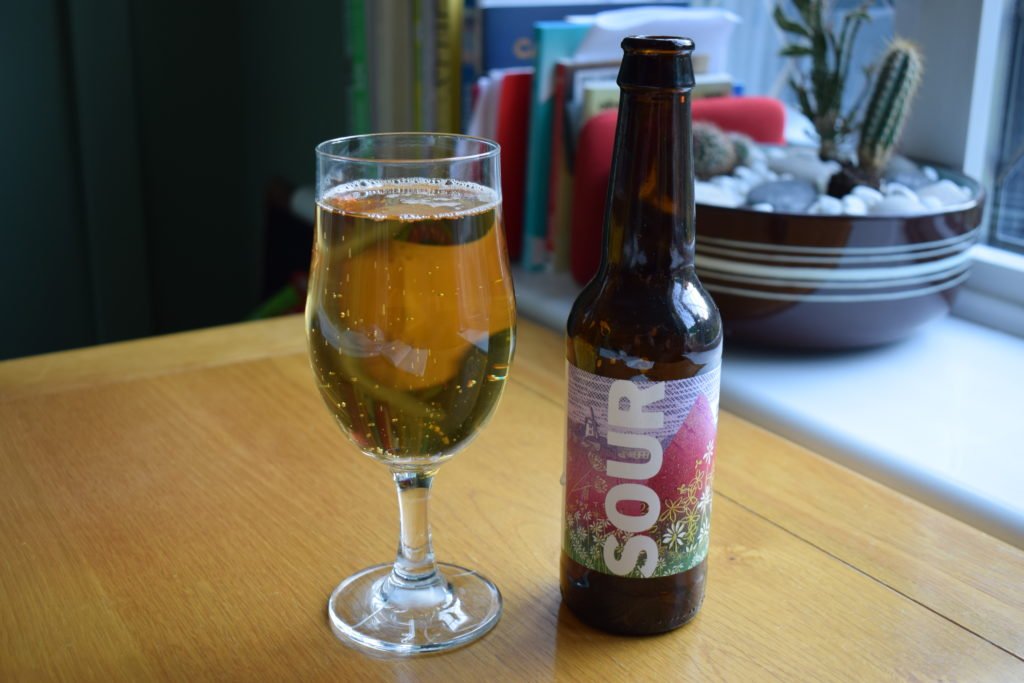 Unlike the spontaneous methods used by lambic breweries like Cantillon or the faster and more predictable method of souring the beer with the Lactobacillus bacteria, Big Drop, under the guidance of head brewer Johnny Clayton, sour this beer with lactic acid, tartaric acid and citric acid.
The grains are barley and malt. As with Big Drop's other beers, there's also the milk sugar lactose, meaning this beer isn't suitable for a vegan diet.
It's gluten reduced, and meets the UK definition of gluten free (less than 20PPM).
Aroma, taste and mouthfeel
Double Strike pours amber. It's clear with no murkiness. The initial fizziness leaves a thin head, which soon disappears. The end result in the glass is a beer that looks a flat, despite a few bubbles rushing to the surface.
The aroma isn't as tart as I expected. It's dominated by a clean maltiness, which reminded me of a lager. There's also some lemon in the aroma and some sweet and tropical smells lurking in the shadows.
The body is light to medium, suiting the style. Despite high carbonation when you crack it open, it calms down to leave just a tickle of bubbles in your mouth.
Lemon flavours feature more in the taste, with pale, lagery malt flavours also coming through late in each sip.
There's low bitterness and only a touch of sourness, which is more reminiscent of tarty citrus flavours than in-yer-face acidity.
Verdict
Big Drop's Double Strike is a pleasant beer that will suit those looking for a little variety in their beers as well as anyone who doesn't normally like beer who wants a "grown-up" alternative to other soft drinks.
Key info – Big Drop "Double Strike"
Name: Double Strike
Brewery: Big Drop
Style: sour
Alcohol content: 0.5%
Calories: 53 (per 330ml)
Carbohydrates: 11.5g (per 330ml)
Sugar: 10g (per 330ml)
Ingredients: water, barley malt, lactose, wheat, hops, yeast, lactic acid, tartaric acid, citric acid
Country: UK
Dispense: bottle (330ml)
Selected stockists (UK): Wise Bartender*